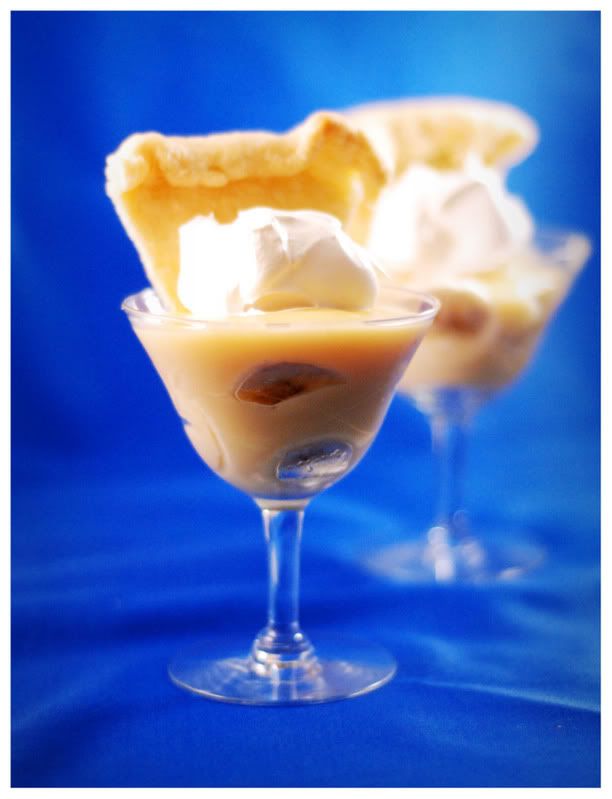 I am so confused. Let me start this story, and then you will understand why…
Yesterday was Thanksgiving and even though it was just my immediate family (hubby and kids…and I STILL felt the need for a Snickers martini at the end of the day) I wanted to do up a big traditional Thanksgiving feast. It seemed only fitting, especially since my five year old kept asking when Thanksgiving was because he "couldn't wait to eat turkey, pumpkin pie and banana cream pie". I could not disappoint him, and frankly, turkey, pumpkin pie and banana pie sounded good to me too!
I set out making our feast, first by making the pies. The first thing I did was to make the pie crust for the banana pie. I could not find my pie weights anywhere, so I called my mom to ask her for an alternative. She was on the phone with my sister, but took enough time to tell me I could use tin foil and rice as pie weights and that would work fine. The problem is…I didn't ask her how much rice to use. Instead of what I later found out should have been a cup of rice, I used about two tablespoons. The result was a very shrunken, mis-shaped pie crust, not capable of containing a banana cream pie.
As I surveyed the mess of my kitchen after only making one thing, and thought about the feast preparing ahead of me, I decided I just did not have it in me to make another pie crust. Tempted to just run up to the store to buy one, my brain flashed back to a blog post I recently read. It was about a deconstructed coconut pie…the pudding and coconut were served in a bowl with a cookie garnish added on top for the crust. Then, I thought…that deconstruced coconut pie was from the great blog "Culinary Concoctions by Peabody." I decided, with Peabody's inspiration, to make my banana cream pie the same way. I used the recipe for banana cream pie to make the pie filling, spooned it into parfait bowls, added some whipped cream and then a slice of my shrunken pie crust as garnish. My family loved it and I avoided going through the process of making yet another pie crust.
This morning as I sat down to write my post, I also remembered that Peabody was having a housewarming party. Since she was my inspiration for the "Banana Cream Pudding with Pie Crust Cookie Garnish" I decided that it was only appropriate to bring this dish to her housewarming party. I cruised on over to her blog to find the deconstructed coconut pie post so I could link back to it and much to my dismay, I couldn't find it anywhere. I searched high and low and it was gone. Had I mistaken the blog that I had read that post on? Apparently so! Good old Google to the rescue. I typed in "Coconut Pie Deconstructed" and was proven wrong. The lovely deconstructed dessert had been posted by none other than Tartelette. As soon as I saw the post, the story behind her deconstructed coconut cream pie came flowing back to me. How could I have mistaken the two?
Either way, thank you ladies for the inspiration and idea. Peabody…welcome to your new home. May your house always be filled with friendship, good food, and loving memories. Cheers!
Don't forget to adopt a food blogger!