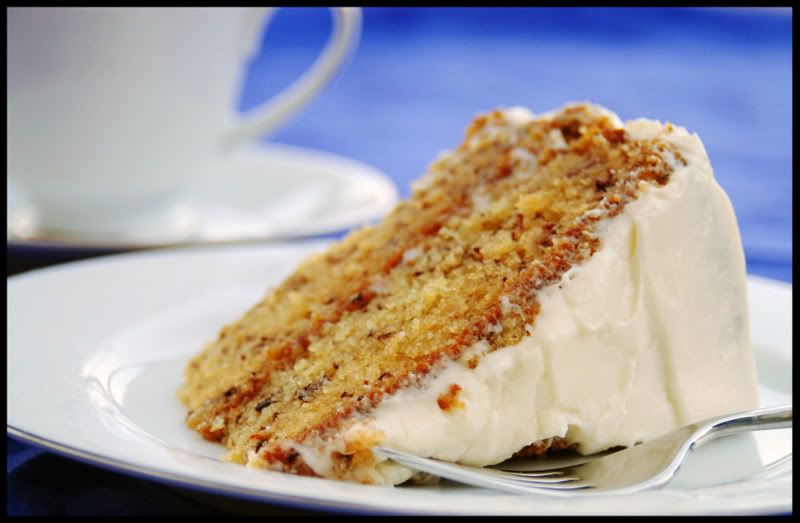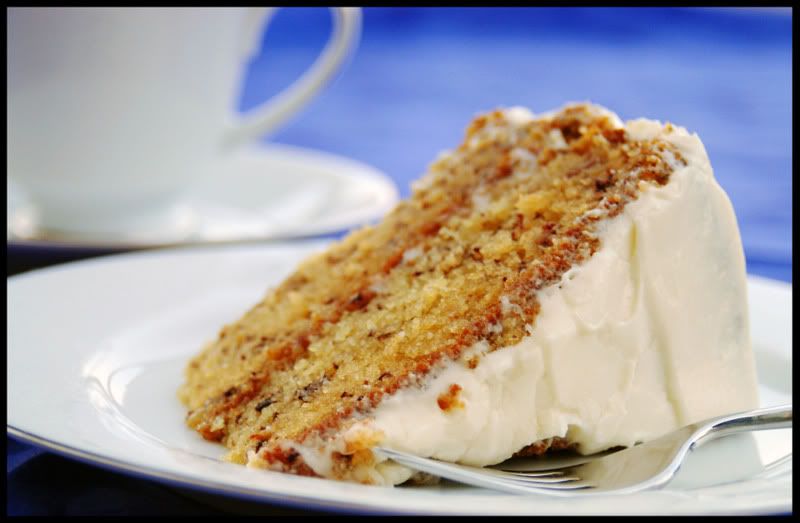 What kind of fool has her oven on during the middle of the day when it is hot enough to fry an egg on the sidewalk outside? You know what? I am that kind of fool. I am the kind of fool that was tempted last week by a Banana Cake photo and article I read on Just Baking. I am the kind of fool that bought extra bananas over the weekend, simply so I could have a few ripe ones to bake with. I am the kind of fool who is tired of making ice cream, milkshakes, and slushy drinks and wants to get back to some honest to goodness baking. You try this recipe and then let's see who is calling who a fool, OK?
Adapted from a Recipezaar
Banana Cake with Cream Cheese Frosting
Preheat oven to 275°.
Grease and flour 2 10 inch cake pans (Or use Wilton's Cake Release…one of my favorite products!).
In a small bowl, mix mashed banana with the lemon juice; set aside.
In a medium bowl, mix flour, baking soda and salt; set aside.
In a large bowl, cream 3/4 cup butter and 2 cups sugar until light and fluffy.
Beat in eggs, one at a time, then stir in 2 tsp vanilla.
Beat in the flour mixture alternately with the buttermilk.
Stir in banana mixture.
Pour batter into prepared pan and bake in pre heated oven for one hou and 20 minutesr or until toothpick inserted in centre comes out clean. (Oven temps vary…watch your cake as it may take more or less time)
Remove from oven and place directly into the freezer for 45 minutes.
This will make the cake very moist.
For the frosting, cream the butter and cream cheese until smooth.
Beat in 1 tsp vanilla.
Add icing sugar and beat on low speed until combined, then on high speed until frosting is smooth and creamy.
Spread on cooled cake.