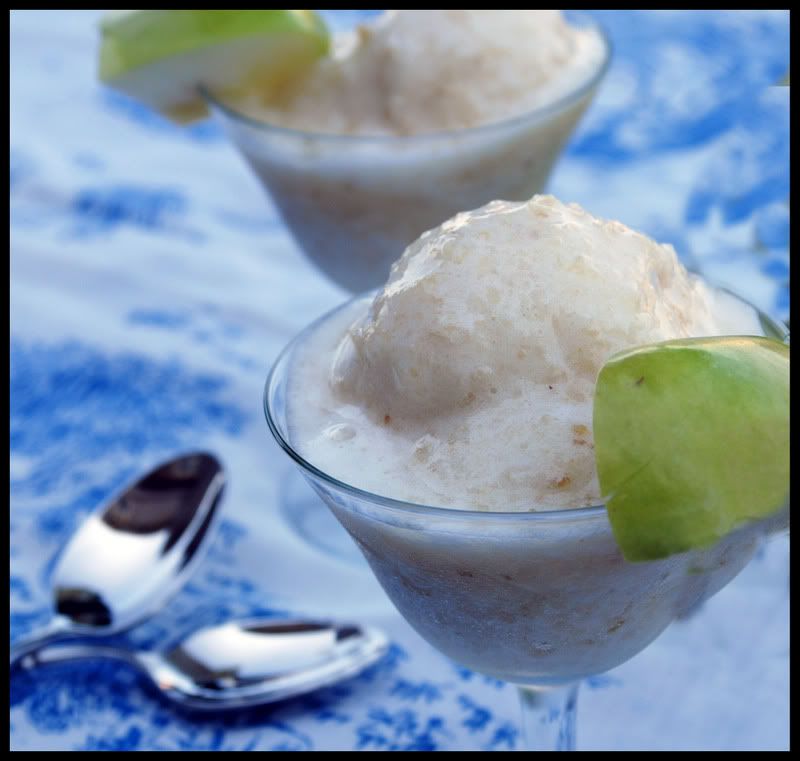 Who needs an excuse to make something cool and refreshing like sorbet? I don't, but just for kicks and grins I will give you the top five reasons why sorbet was on our dessert menu today:
The temperature today, where I live, topped at 92 degrees Fahrenheit… it was H-O-T hot! Hot chocolate just won't do today…an icy treat was in order.
My 5 year old is having his tonsils and adenoids taken out next week. He is looking forward to eating ice cream, Popsicles, and now, sorbet, while he recovers. I have been experimenting with various recipes to try that he will be able to eat post-op.
It is just seems fancy to say we are having sorbet for dessert
With all the fresh fruits in abundance, I am always looking for new and interesting ways to use them up.
The lovely Laura over at Eat Drink Live announced that the theme for this months Hay Hay It's Donna Day is…sorbet!
There you have it… the top five reasons why I decided to give sorbet a try today. I have never participated in the Hay Hay It's Donna Day event and since my husband has been raving about the sorbet he gets at one of his favorite New York City restaurants, I decided to surprise him and make some at home. I knew that a lot of people participating in the event would be making sorbets out of the fresh fruits of the season…strawberries, raspberries, etc. As much as I love summertime fruit, I know how much my husband loves apples so I thought he would most enjoy an apple sorbet. Apple just seemed too plain though, so on a whim I decided to throw in some pears as well. The result was a sweet, icy sorbet…rich with flavor and the perfect end to a fantastic dinner al fresco on the deck. You don't need an excuse… go ahead and try it!
Pear Apple Sorbet
2 Granny Smith Apples, cored and roughly chopped
2 ripe Pears, cored and roughly chopped
1/2 cup sugar
1 cup apple juice
In a medium saucepan over medium heat, combine apples, pears, sugar and 1/2 cup water; cover. Cook until tender, about 10 minutes. Press mixture through a sieve placed over a bowl. Discard apple and pear skins and stir in apple juice and another 1/2 cup water. Place mixture in a food processor and pulse 3-4 times until any big chunks are smooth.
If making without an ice cream machine, pour into a shallow container and freeze 6 hours, scraping with a fork once or twice to break up crystals. If using a machine, churn until firm enough to scoop.