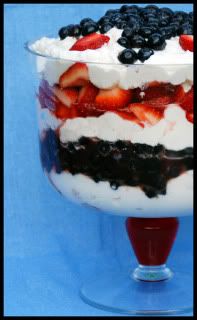 First of all, let me get some of the vacation details out of the way. Our vacation was really nice, minus all the bonding time we had in the car. I love my family, but 40 hours in the car reverses the love we developed for each other from the first 20 hours of bonding. I do not need to do a road trip like this anytime soon! With that being said, if you want to check out some of the highlights from our trip, visit my family blog and you will get a short blurb along with a cute little slideshow of photos. I did have an insane impulse while we were gone and had my back length hair cut off to my ears. I love the change and it was a fun, impulsive thing to do while we were gone.
As far as the food highlights, because you know I am all about the food, there were many. In Chicago – my sister-in-law's enchiladas, some wonderful cinnamon sugar bakery bread, Bacon Bit pizza from Monical's and ice cream from Oberweis Dairy. In Pennsylvania… the Philly Cheesesteak Sandwiches from Southside Steaks and the most delicious custard/Italian Ice creation from Rita's Ice Cones top the list. I'd love to get my hands on that recipe. In Iowa, the adorable food my sister-in-law made for the summer birthday parties were a hit as well!
Now…on to the fourth of July.
When you think of July 4th in America, what kind of desserts do you think of? Desserts featuring red, white and blue most likely is the first thing that pops into your head. First you have your tasty red, white, and blue flag shaped jello mold. You also have your delicious flag cakes. Oh – and don't forget the red, white and blue beverages. Raspberries, strawberries and blueberries have their hay day on July 4th as they are typically the feature ingredient in the 4th of July desserts.
Yesterday we hosted our first annual "BBQ in the Bubble" party at our house. My husband and the husband of my friend Sara both smoked some delicious pork shoulder all day for our block to enjoy at our party. Everyone attending was asked to bring a side dish or a dessert. As the flood of responses came in, I was surprised to have only one person say they were bringing a dessert…and it was not going to be something red, white, and blue. How could we have a 4th of July party without bringing out some kind of patriotic dessert? The fact is, we couldn't. We could not let July 4th pass without eating some kind of red, white and blue concoction. To solve this problem, I turned to my favorite recipe site…Recipezaar. I remember seeing a trifle last year that would be a perfect 4th of July treat. The Red, White and Blue Trifle is a beautiful dessert that showcases the colors of our American flag. It looks like slop once it is dished out… you just can't make a trifle look as pretty on a plate as it looks in the trifle bowl. That is neither here nor there because slop or not, this trifle is delicious!
I hope you all had a great July 4th. I would like to take a moment to thank those brave men and women who are serving our country and who make the greatest sacrifice everyday to allow us the freedom we have. Thank you all. God Bless America!
From Recipezaar, 4th of July Trifle
Cream together cream cheese and confectioners sugar.

Add sour cream, vanilla and 1/4 tsp almond flavoring.

Set this mixture aside.

In separate bowl whip the whipping cream and add to cream cheese mixture.

Tear up angel food cake and mix in.

In separate bowl (s) place strawberries and blueberries 3/4 C sugar and 3 Tbsp almond flavoring.

(You can mix the berries together or keep separate, for a pretty red, white and blue look,if separate divide sugar and almond flavoring between the two bowls).

In a clear glass bowl alternate layers of the cream cheese mixtures and the berries.

Garnish the top with berries.

Refrigerate for a couple of hours.