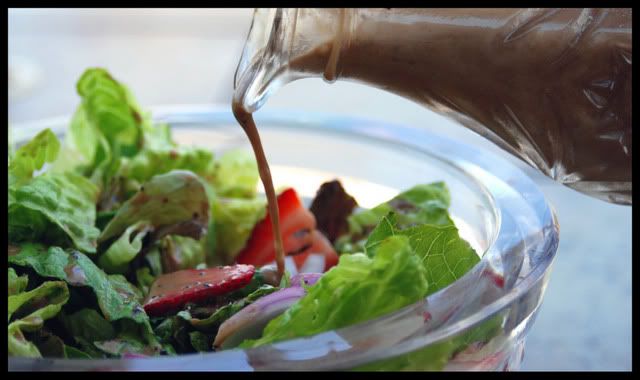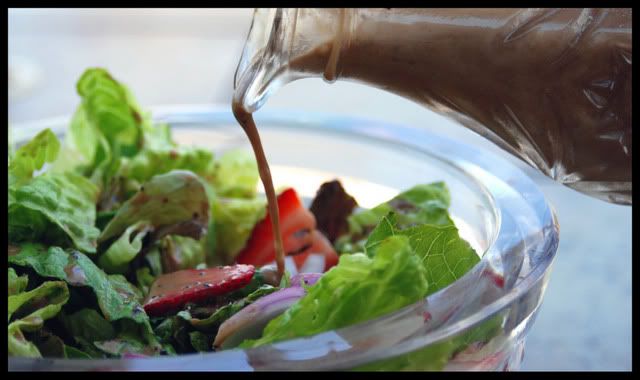 When Lisa over at La Mia Cucina announced that her and Kelly were hosting a Salad Extravaganza, I knew just the recipe I was going to submit. Believe it or not, we eat more than just desserts around here at the Dine and Dish household. I love salads and we have a salad with dinner almost every night. My kids love salad too. We all get good dose of veggies at night with our evening salad. My five year old always asks for "more leaves". My three year old calls some of the pieces in a Spring Mix salad "trees". So, we eat a lot of leaves and trees.
This "leaves and trees" salad is one of my favorites, even though it is a new to us salad. My friend Tina brought this to Easter dinner and we all gobbled it up. This is the kind of salad that I sneak downstairs at night and stand in front of the open refrigerator eating. Yes… it is eat in your PJ's when you cannot sleep and have a craving good. In fact, I think I have to go grab a bite right now.
Strawberry Romaine Salad with Creamy Poppy Seed Dressing
2 heads of Romaine lettuce (or use prepared bags)
1 pint strawberries
1 small red onion, quartered and sliced
Wash heads of lettuce and let drain extremely well.
Wash and slice strawberries.
Tear lettuce into pieces, add strawberries and onions.
Creamy Poppy Seed Dressing
1 cup real mayonnaise
1/2 cup balsamic vinegar
1 1/2 TBSP poppy seeds
1/2 cup milk
2/3 cup sugar
Put all of the ingredients in a container with a lid. Whisk quickly, place the lid on and shake well
Just before serving pour dressing over the salad and toss to mix well.