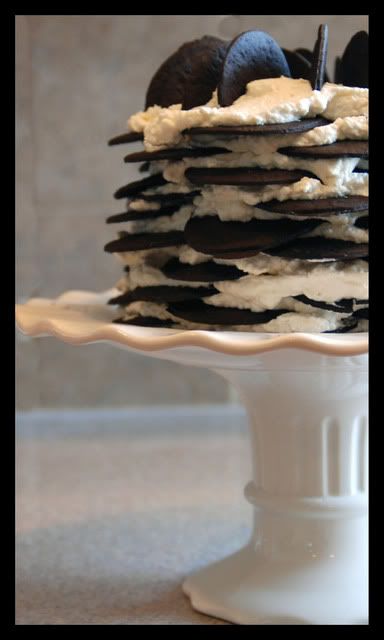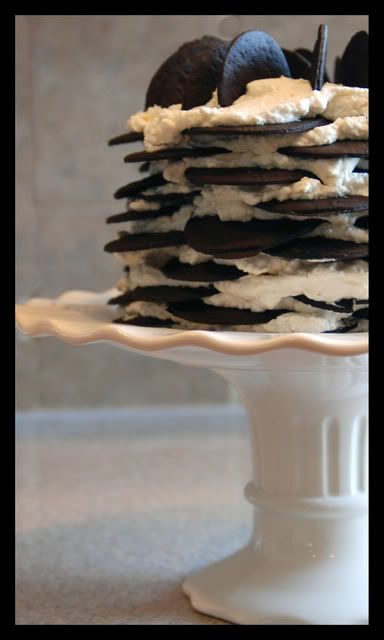 Crave: to want greatly : to yearn for: to have a strong or inward desire

Oh, I know all about cravings. Cravings are getting up in the middle of the night to make scones because you cannot get them out your mind.  Cravings are my 13 year old nephew walking one and a half miles to the grocery store to get butter just so his mom would make him these cookies. Cravings are my friend taking a flight out to California simply to curb her desire for an In-N-Out burger. Cravings are driving to 5 different grocery stores when gas is $3.25 a gallon to find the chocolate wafers called for in the Magnolia Bakery Chocolate Wafer Icebox Cake recipe.
Yes, I know all about cravings and the strong pull they have over some of us. My craving for the Magnolia Bakery Chocolate Wafer Icebox Cake started a few years ago when I saw a
photo and the recipe
featured in O Magazine. The craving later intensified when Deb over at
Smitten Kitchen
wrote a post about this cake. Her featured photos had me drooling on my computer keyboard. Somehow, I have managed to keep pushing this craving aside. I really, really wanted to try it, but the craving was not so strong that I had to give in. It was not so strong until this past week when I was browsing through the blog of fellow
Just Baking
writer, Jennifer McHenry of
Bake or Break
. I was clicking and scrolling around when a big, beautiful picture of the
Chocolate Wafer Icebox Cake
popped up on my screen. It was at that moment that I hit my breaking point. I could not stand to go another day without making this cake.
Since this cake needed to be refrigerated overnight, I knew I had to get busy with assembly pronto. As soon as my husband got home, I told him I had to make a quick run to the grocery store. I ended up driving to five different grocery stores before I finally found the chocolate wafers. A couple of hours later when I walked in the door, I got the "where the hell have you been??" look from my husband. A quick run to the grocery store typically doesn't mean returning home 2 hours later. In silence, I took out the chocolate wafers and showed them to my husband. Then, I took him to my computer and pulled up the photos of the cake. Silently, with craving in his own eyes, he nodded in agreement, understanding my absence and then left me to my assembly work.
This cake is deceptively easy to put together and it is a definite show stopper. It is one of those desserts that when you put it in front of people, all of the talking stops…eyes get big and mouths drop in awe.  This dessert is delicious and rich and perfect for an indoor summer gathering. Next time I make it, I will be adding some Grand Mariner to the cream mixture just to make it that much more crave worthy.
This delicious creation is my entry for the
June 2007 Sugar High Friday
event. The theme this month is
The Sweetest Thing
and it is all about those desserts that we crave…those that tempt us time after time. I am certain that after this round up, I will have a fair amount of other recipes to add to my growing list of foods I crave to make.