My husbands favorite cookies are these Chocolate Star Cookies, baked with love.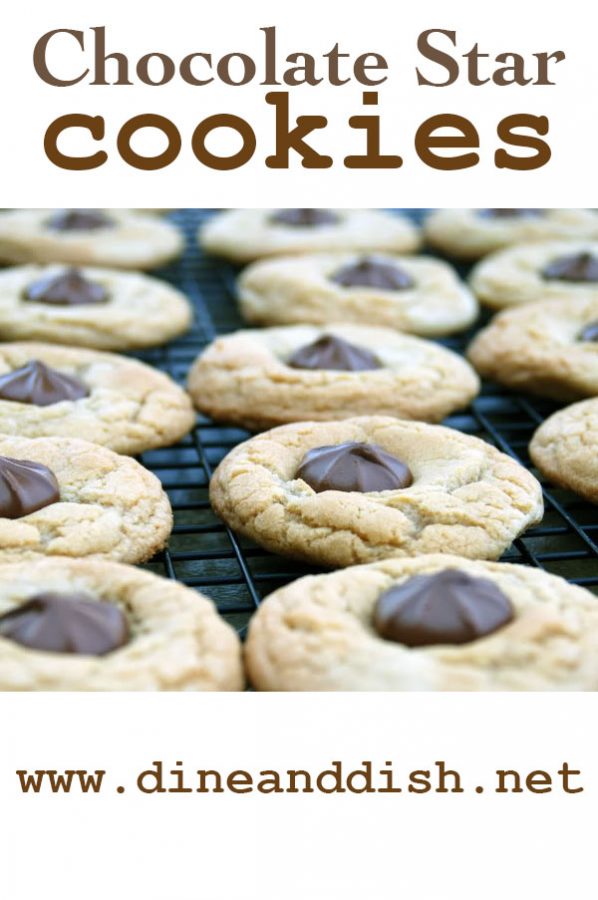 There used to be a time when I did not see the point of making homemade cookies. Why bother with all the trouble when you can get refrigerated cookie dough? What could be easier than snipping open the package, slicing some dough and then baking them? Why would I want to go through the hassle of dirtying up a bunch of dishes just to make cookies? Typically, back then, a container of sugar or flour would last me more than 6 months. I moved the same container of table salt and the same box of baking powder to two different apartments after my annual leases were up. Cookies were all about the dough to me anyway. If I was craving some cookie dough, I would just go pick up a tube of Toll house and call it good.
Back then can also be known as pre-marital bliss. Something happened to me when I got married. Not right away, but shortly after. I began to observe what would happen when my mother-in-law would visit. She never came to our house without a bucket of homemade baked goods…cookies, bread, bars, etc. She would hand over the goods to my hubby as soon as she walked in the door and a smile would cross his face as he searched through it to see what treats were in store for him. I'd watch in wonder as he would light up…pulling out this and that. After observing this ritual time after time it finally hit me. To my husband, baked goods equaled love. That seems very simple. He equates the bucket of goodies from his mom with the love she has for him. She loves him so she bakes for him. This was a new concept to me, but one that I knew I could handle. I was going to become a domestic goddess and my husband was going to love me for it.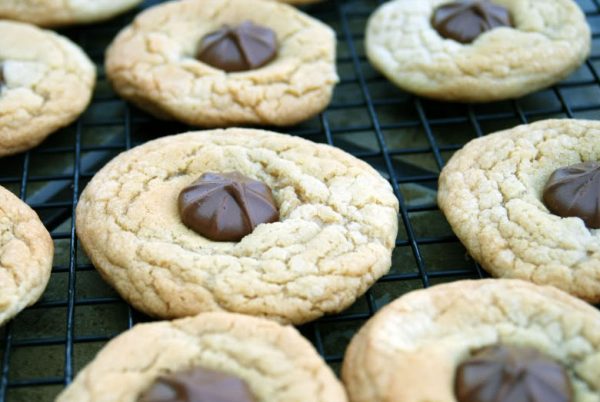 It only took one or two homemade cookie making attempts before my husband saw where this was all heading. One day, he came home from work with a present…. a brand new Kitchenaid Mixer. I remember him telling me, "If you are going to play the part of a baker, you have to at least look the part." With an excited hug and a kiss, I set out to make some cookies. I wanted these cookies to be filled with love, so I called his mom up to get the recipe for his favorite cookies…Chocolate Star Cookies. I was a little nervous about stepping over the special mom/son boundaries to get this recipe from her, but when I spoke to her she gave the Chocolate Star Cookie recipe easily and seemed happy at the thought that her son was finally being properly taken care of.
Many, many, many years later love and cookies fill our home. I bake several times a week and as they say… "You've come a long way, baby." I love the hugs and kisses and special thanks I get when I bake something for someone I love. It may be self-gratifying, but it feels good to be able to share the love that comes from homemade goodness with others.

Chocolate Star Cookies
My husbands favorite cookie, made with love.
Ingredients
1 cup Crisco
1 cup sugar
½ cup brown sugar
2 large eggs
2 tablespoons water
1 teaspoon vanilla
3 cups flour
1 teaspoon baking soda
½ teaspoon salt
48 brach chocolate stars (also known as chocolate rosettes or chocolate buds)
Instructions
Preheat oven to 375°.
In a large mixing bowl, beat together Crisco, sugar, brown sugar, eggs, water and vanilla until well mixed.
Add the flour, baking soda & salt to the mixing bowl and mix well.
Cover and refrigerate dough for 30 minutes.
Roll dough into 1-inch balls and place on ungreased cookie sheet.
Place in preheated oven and bake for 9-11 minutes or until light brown.
As soon as you remove the cookies from the oven, place a chocolate star on the top of each cookie.