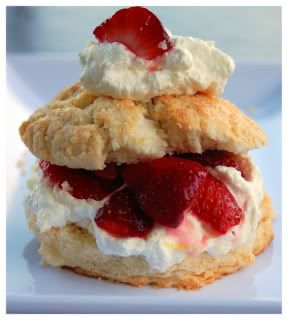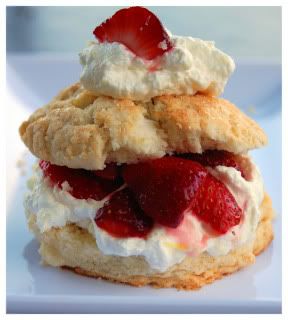 I just thought I would warn you all now. By the end of the summer those of you who read my blog will probably be so sick of seeing and hearing about strawberries. The annual strawberry kick I get on every year has made an early appearance and I have a feeling it is going to last a very, very long time. I see in our future…strawberry milkshakes, strawberry muffins, strawberry ice cream, strawberry cake, strawberry salad, salmon with strawberry sauce, strawberry kebabs, etc. You get the picture… we love strawberries at our house and it shows all summer long.
The Strawberry Cupcakes and the Strawberry Margarita dessert from the weekend got my taste buds going and ready to be in full strawberry mode. Then, the June 2007 issue of Food and Wine magazine arrived in the mail. The final page, which is always F&W's Last Bite section, had the most glorious looking photo of a strawberry shortcake concoction. My mouth was watering. My husband's mouth was watering. We were ready to give in to our strawberry obsession even if it was a tad bit early for us to start.
If you get strawberry obsessed like we do this time of year, Dine and Dish is a good place to be. We can be strawberry glutton's together. If you are not a fan of strawberries, I don't know what to tell you except that I hope you will stick with us for the in between the strawberry obsession posts. I cannot understand the craziness of not liking strawberries, but I promise that I will try to keep you in mind and bring something to the table that you can enjoy as well.
For those of you on board with the whole strawberry thing, here is the recipe from Food and Wine magazine for Strawberry Shortcake with Meyer Lemon Cream. If you use anything other than Meyer Lemons, I would suggest adding some additional sugar to the lemon curd to help offset some of the tartness. Enjoy!
Strawberry Shortcake with Meyer Lemon Cream
Biscuits

1 1/2
cups

all-purpose flour

, plus more for dusting
3/4
cup

cake flour

3
tablespoons

sugar

2
teaspoons

baking powder

1/2
teaspoon

salt

6
tablespoons cold

unsalted butter

, cubed, plus 1 1/2 tablespoons melted butter
1
cup

heavy cream

1 1/2
tablespoons

turbinado sugar

Lemon Cream


1
finely grated

lemon, zest of

1/4
cup

fresh lemon juice

, preferably from Meyer lemons
2 1/2
tablespoons

sugar

1
large

egg

1
large

egg yolk

1
pinch

salt

3
tablespoons

unsalted butter

1
cup

heavy cream

Strawberries

2
pints

strawberries

, quartered
2
tablespoons

sugar
MAKE THE BISCUITS: Preheat the oven to 375°. In a large bowl, whisk the all-purpose and cake flours with the sugar, baking powder and salt. Using a pastry blender or 2 knives, cut in the cold butter until it is the size of small peas. Stir in the cream until a shaggy dough forms.

Turn the dough out onto a very lightly floured surface and knead 2 or 3 times, just until it comes together. Roll the dough into a 7-inch round, about 3/4 inch thick. Using a 2 3/4-inch or 3-inch biscuit cutter, stamp out 5 biscuits. Gently gather the scraps and reroll them; cut out 1 more round so you have a total of 6 biscuits.

Transfer the biscuits to a baking sheet and brush with the melted butter. Sprinkle the turbinado sugar on top and bake for 25 to 30 minutes, until the biscuits are golden. Let cool.

MEANWHILE, MAKE THE LEMON CREAM: Set a strainer over a medium bowl. In a small saucepan, combine half of the lemon zest with the lemon juice, sugar, egg, egg yolk, salt and 1 tablespoon of the butter. Cook over moderate heat, whisking constantly, until thickened, about 5 minutes. Immediately strain the curd into the bowl. Whisk in the remaining lemon zest and 2 tablespoons of butter. Press plastic wrap directly onto the surface and refrigerate until cool, about 15 minutes.

In a medium bowl, softly whip the cream. Fold the lemon curd into the whipped cream and refrigerate for at least 15 minutes.

PREPARE THE STRAWBERRIES: In a medium bowl, toss the strawberries with the sugar and let stand for 15 minutes.

Split the biscuits in half and arrange the bottom halves on plates. Mound the lemon cream on the biscuits, top with the strawberries and their juices and replace the tops. Serve right away.