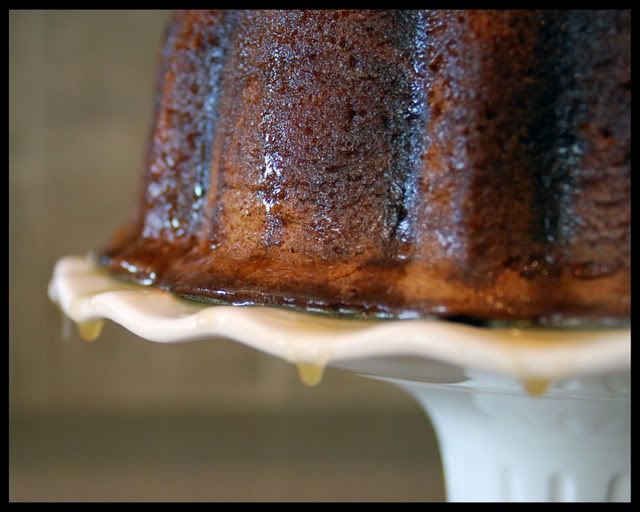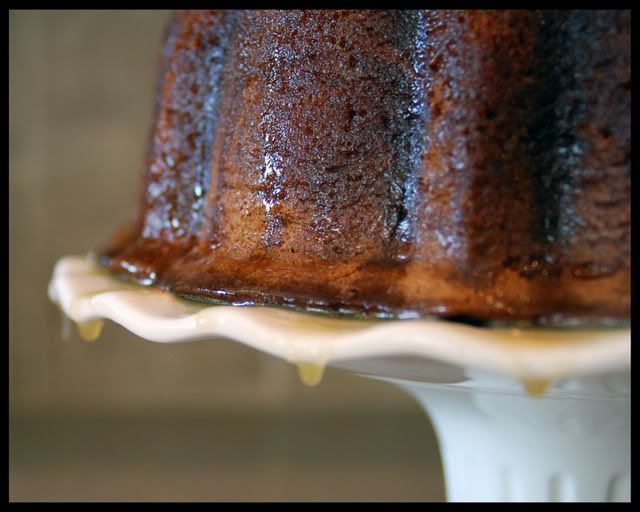 Bundt cakes always get a bad rap for being boring. When I think of bundt cakes, I think of little old ladies and their church pot luck suppers. Bundt cakes seem to be all over the place at those events. People seem to like bundt cakes, but they rarely get the ooohhh's and ahhhhh's they deserve. Is it the lack of frosting that gives them their less than stellar appeal? Is it that they tend to be a simple, dense cake without a lot of flavor variation? I really do not know what the reason is, but I am here today to change your mind and to convince you to give the simple little bundt cake another chance.
I needed to make a cake this weekend for a party we were having. For some reason, I had it in my mind that I wanted to make some kind of bundt cake. As I was browsing through my recipes at home I could not find anything that stood out. I did not want boring… I wanted a cake that people would leave asking the recipe for. After an unsuccessful attempt browsing through my own recipes, I decided to turn to Recipezaar. I typed in "Bundt Cake" and a zillion recipes popped up. I sorted the recipes by rating and as soon as I did that a recipe for an "Irish Cream Bundt Cake" popped up. I opened it up and started reading the reviews. People loved this bundt cake! With 23 high star reviews and all of the ingredients right in my pantry, I knew I found the recipe I would be using for my bundt cake.
This cake is amazing. AMAZING! I am not exaggerating when I say this. The Irish cream comes through nice and strong and the texture of the cake is true to bundt cake form…dense, moist and delicious. I think we could all pull together with this recipe and change the reputation of bundt cakes around the world. We could start a movement to put bundt cakes on the "Hot List". Bundt cakes could become one of "Oprah's Favorite Things". Some hot celebrity would sign on to be the Bundt Cake activist. It may take some time for bundt cake to become cool. I suggest that you become a trendsetter now and give this recipe a try. Pass it around to your friends and neighbors and people will come around. Trust me.
Irish Cream Bundt Cake
Preheat oven to 325 degrees F (165 degrees C).

Grease and flour a 10 inch Bundt pan.

In a large bowl, combine cake mix and pudding mix.

Mix in eggs, 1/4 cup water, 1/2 cup oil and 3/4 cup Irish cream liqueur.

Beat for 5 minutes at high speed.

Bake in the preheated oven for 60 minutes, or until a toothpick inserted into the cake comes out clean.

Cool for 10 minutes in the pan, then invert onto the serving dish.

Prick top and sides of cake.


Spoon glaze over top and brush onto sides of cake.

Allow to absorb glaze repeat until all glaze is used up.

To make the glaze: In a saucepan, combine butter, 1/4 cup water and 1 cup sugar.

Bring to a boil and continue boiling for 5 minutes, stirring constantly.

Remove from heat and stir in 1/4 cup Irish cream.
On a side note, the lovely Sandi at the Whistlestop Cafe and Mimi at French Kitchen in America have both tagged me as a "Thinking Blogger"…this is an award given to someone who has inspired them to think. Well…I am so honored but overwhelmed as now I get to choose 5 bloggers who have inspired me to think. This was so hard because there are sooooo many, but here it goes:
1) Lisa over at
Project Metta
. Visit Lisa's blog and you will be inspired by her Random Acts of Kindness project. What a great way to change the world!
2) Karen Beth over at
Zazazu
. Her blog is full of lovely inspiration. She makes me think about life in a whole new way.
3) Jody at
The Devil's Cloth
. I am so inspired by her incredible talent and her links to others who are full of talent.
4) Kate at K
ate in the Kitchen
. I love Kate's writing…she makes me want to be a better writer. She is also super smart when it comes to all things wine. I love her advice and her intelligence!
5) Last but not least,
The Thinking Blog
. Appropriate, isn't it? This blog really does make you think about everything going on in the world and also makes you think about things you didn't know you wanted to think about. Just go visit… you won't be sorry!