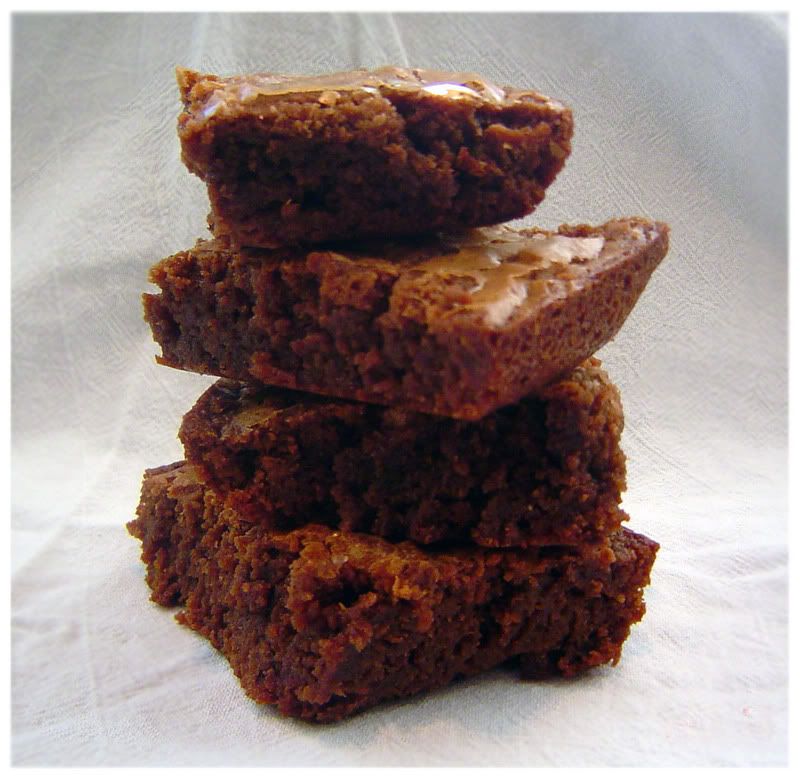 I was so excited yesterday when I stumbled across a recipe for Malt-Fudge brownies over at the Tummy Treasure blog. I needed a dessert to take to our Mom's Night Out game night and chocolate anything is usually a hit with women. I knew I had a lot of leftover malted milk balls from the Malt Ball Cake I made last month, so this recipe wouldn't require an extra trip to the store, which was a big plus.
We were pretty busy yesterday so I didn't get around to starting the brownies until around 5pm. I wasn't worried as the recipe was straight forward and simple…. nothing at all complicated about it. I was mixing the ingredients together and got to the part that required coarsely chopped malt balls. I walked into my pantry, found the box of Whoppers and picked it up. I opened the top and went to pour them into my food processor. Much to my surprise, my box that should have been over half full had 5 tiny little malt balls trickle out. 5 malt balls and I needed a full cup. I looked up to see my husband's face… he looked like a kid caught with his hand in the cookie jar. "What happened to all of the Whoppers?", I asked. "Ummmmmm…..yikes. I didn't know they were off limits. You didn't tell me that I couldn't eat the Whoppers."
This used to happen all the time when I was pregnant. I'd have something I was savoring… taking my time eating. One day I'd reach in to grab it and it would be gone. My husband is a snack stealer… a candy thief… a "I can't resist it anymore" fall for the temptation kind of guy. As you can imagine, when I was pregnant this would make me see red. Everyone knows you don't get in the way of a pregnant hormonal woman and her treats! Not to worry…I'm not pregnant right now and I'm not too hormonal this week, so I calmly growled at my husband (just to make a point) and then thought of a game plan. Since the recipe called for 1 cup of coarsely chopped malted milk balls I decided to just substitute an additional 1/2 cup of chocolate malted milk powder. Not really the same, but it was the only alternative I could come up with.
Let me tell you… these have to be the absolute best brownies I have ever made. They are rich, chewy, fudgy and delicious. The malt flavor is subtle, but strong enough to make you wonder what the "secret" ingredient might be. I can imagine that with the recipe followed exactly, these would be out of this world.
Here is the recipe, as written by Erika over at Tummy Treasure. This is well worth keeping the malted milk balls in an "off limits" location until you are ready to make these. They are delicious!
Malt-Fudge Brownies
1 1/2 cups all-purpose flour
1/3 cup malted milk powder
1/2 teaspoon salt
1 cup butter
4 ounces unsweetened chocolate, cut up (I used Ghiradelli)
2 cups sugar
4 eggs
1 teaspoon vanilla
1 cup chopped walnuts, toasted (I omitted)
4 ounces coarsely crushed malted milk balls (about 1 cup)
1. Preheat oven to 325ºF. Lightly grease a 13 x 9 x 2 inch baking pan; set aside. In a medium bowl, combine flour, malted milk powder, and salt; set aside.
2. In a medium saucepan, combine butter and chocolate; heat and stir over low heat until chocolate melts. Remove from heat, stir in sugar. Using a wooden spoon, beat in eggs, one at a time. Add vanilla. Stir in flour mixture, wwalnuts and half of the crushed malted milk balls. Spread batter in prepared pan.
3. Bake in preheated oven for 35 minutes. Cool in a pan on a wire rack. Cut into bars. To package, place remaining crushed malted milk balls in a small plastic bag with the instructions, "Use a small amount of canned frosting to 'glue' malted milk balls atop bars." Makes 30 bars.
To Store: Layer unfrosted bars between waxed paper in an airtight container; cover. Store in the refrigerator for up to 3 days or freeze for up to 3 months.