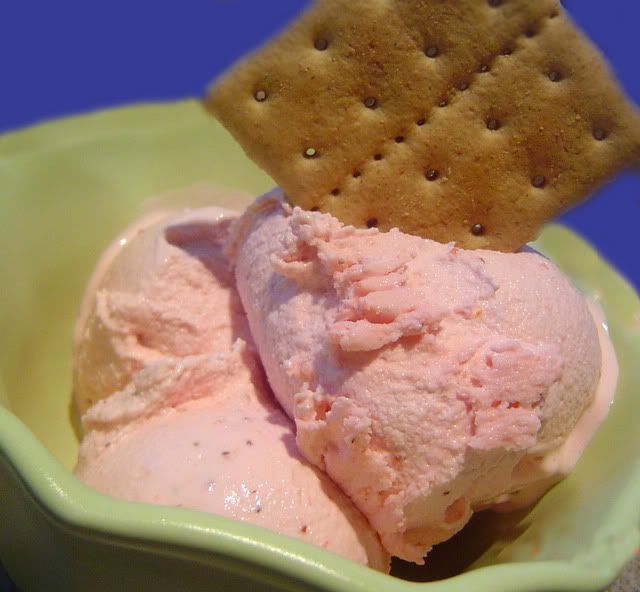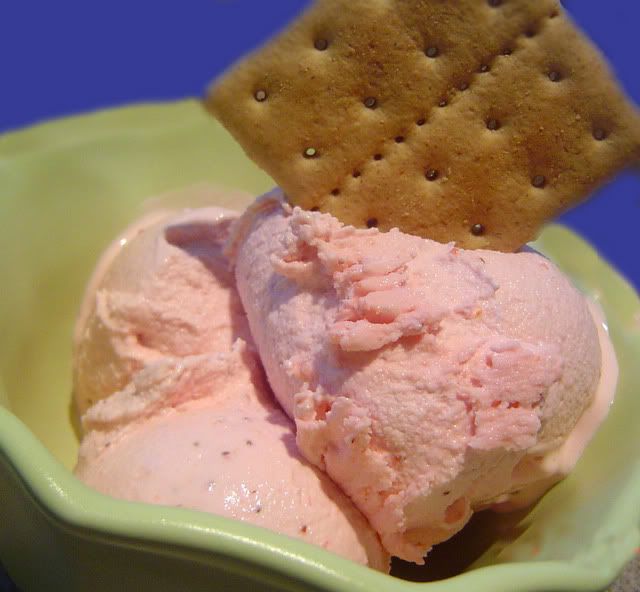 Hmmmm… I wonder why after 9 months, I am still carrying around an extra 15 pounds of leftover baby weight. It couldn't possibly have anything do do with all the baking I do, could it? Surely not. I am convinced it is because of all the wonderful food blogs out there and the incredible photos that go along with each and every one of them. I swear I probably gain weight reading through your blogs each week. The calories ooze through from your computer right into my thighs.
I can tell that my newest found foodie interest is not going to help matters much. After seeing gorgeous photos posted on Recipezaar and reading through blogs like Jumbo Empanadas and Not Eating Out In New York, I finally gave in to the temptation to purchase an electric ice cream maker. We have a White Mountain ice cream maker that is big, heavy and messy and only gets used about twice a year. I want to be able to make ice cream without having to lug that big old piece of equipment out, so I headed to Bed Bath and Beyond earlier this week and purchased a handy little Cusinart ice cream maker. I put the included bowl in the freezer as soon as I got home and the very next afternoon I got it out to make my first batch of homemade ice cream. I chose a simple recipe off of Recipezaar for Strawberry Cheesecake Ice Cream. I followed the instructions and in less than thirty minutes I had a batch of homemade ice cream. I cannot believe how simple it was and how delicious the end product was. Thank goodness I didn't have this while I was pregnant or I would have easily gained 50-100 pounds. It is so easy that if I am craving ice cream I can have it without sending my husband out in the middle of the night to bring me home a pint (okay…a gallon). I can now make ice cream how I want it and am not limited to what is available in the freezer section of my local grocer.
Now, I wonder if I post the photo and the recipe here, if the calories will oooze out from my computer into your thighs, saving me the extra calories? You know what? It is worth a try… Enjoy!
From Recipezaar:
Strawberry Cheesecake Ice Cream
Blend all ingredients until smooth.

Chill ingredients for about 1 hour, or until cold.

Turn on ice cream machine and set it to chill the freezing/mixing bowl for 5 minutes.

Spoon the cooled mixture into the freezing/mixing bowl of machine.

Set the freezing timer to the 30 minute maxium setting.

Push start button.

When timer rings, spoon ice cream into dishes and enjoy.