Did anyone out there watch Grey's Anatomy last night? Surely they are just teasing the viewers, aren't they? I mean, seriously, if a show is named after your character, you'd think that would guarantee you some sort of job security, right? They can't kill off Meredith. You can bet I'll be glued to the TV next week to find out what the "devastating conclusion" is. Seeing Dr McDreamy all torn up….*sigh*. Watching Dr McSteamy and Alex show their more sensitive sides…*sigh*. Hearing Cristina talk about how Meredith is her "person"… *sigh*. Although gross, watching Izzy regain her status as a surgeon and getting off probation…Such a great show.
The show theme last night was all about disappearing. If you disappeared, if you went suddenly missing, would anyone notice? Would your lack of presence cause anyone to stop an wonder where you were? I would like to think that I would be missed. My children would wonder where that crazy woman is that makes their breakfast, drives them to school and tucks them in at night. My husband would miss me, although he would probably survive a lot better than I'd like to admit. I have family and friends that would miss me too. Neighbors would miss the random baked goods that show up at their door on a weekly basis. I would be missed.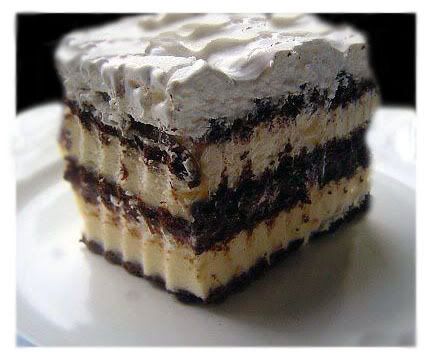 I know that one thing my entire family misses once it disappears is anything made with ice cream. If I want my husband to do something for me, if I want to seduce him into thinking something might be a good idea, if I want to get on his good side, I make something with ice cream. Add chocolate, caramel and whipped cream and the man is pretty much putty in my hands. One dessert that more than does the trick is Ice Cream Sandwich dessert. This is one of those desserts that you take places and everyone asks for the recipe. I'm typically embarrassed to give the recipe out because it is so incredibly easy. Once this yummy dessert disappears, you'll have people falling all over themselves to seduce you into making more. That is why the Ice Cream Sandwich dessert is my entry into this months Sugar High Friday, theme "Sweet Seduction".
Make desserts like this and I guarantee you, if you were to disappear, you would be missed. Here's the recipe…use it to seduce someone you love!
Ice Cream Sandwich Dessert
19 ice cream sandwiches
1 carton (12 ounces) frozen whipped topping, thawed
1 jar (11-3/4 ounces) hot fudge ice cream topping
1 jar (11-3/ ounces) caramel ice cream topping
1 cup salted peanuts (optional)
Cut one ice cream sandwich in half. Place one whole and one half sandwich along a short
side of an ungreased 13-in. x 9-in. x 2-in. pan. Arrange eight sandwiches in opposite
direction in the pan. Spread with half of the whipped topping. Spoon fudge topping by
teaspoonfuls onto whipped topping. Sprinkle with 1/2 cup peanuts. Repeat layers with
remaining ice cream sandwiches, whipped topping, caramel ice cream topping instead of fudge and peanuts (pan will be full). Cover and freeze for up to 2 months. Remove from the freezer 20 minutes before serving. Cut into
squares.
Yield: 15 servings.