I have had quite a day and I am so exhausted. If you are curious, click here to find out why.
This is going to be a super short post today, but I had to share this recipe with you that Kirsten over at Home Cooking Adventures shared last week. The recipe is so easy and incredibly good! We will be making this time and time again. Thank you Kirsten!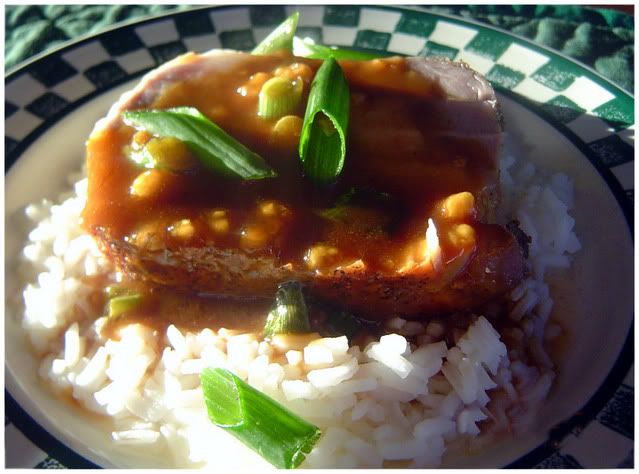 Pork Loin Roast with Hoisin-Sesame Sauce:
(serves 4)
1 2.5 lb pork loin roast
Olive oil as needed
Salt and Pepper to taste
1 tbs fresh minced ginger
1/4 c hoisin sauce
1/2 c orange juice
1/2 c low-sodium chicken broth
1 tsp toasted sesame oil
2 green onions, sliced
Directions:
Salt and pepper roast liberally and brown in a saute pan with olive oil on all sides. Place into a roasting pan and bake at 350 for about 40 minutes (until internal temp is about 140). Remove and cover with foil and let stand for about 10 minutes before carving.
Meanwhile, drain most of the oil from the saute pan and retain any brown bits. Saute ginger until fragrant, then add remaining sauce ingredients (except green onions). Simmer until thickened, then add green onions. Cut pork into slices and top with sauce and additional green onion slices for garnish. Serve immediately.