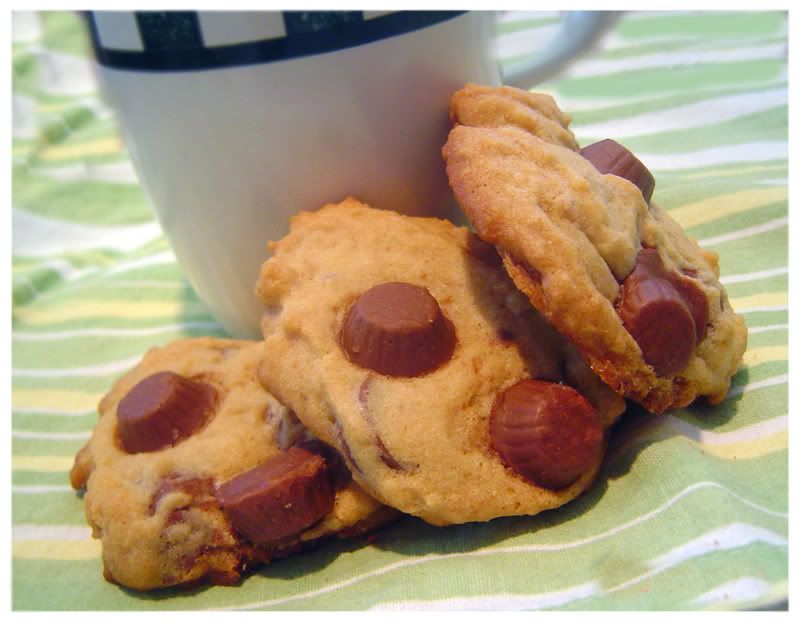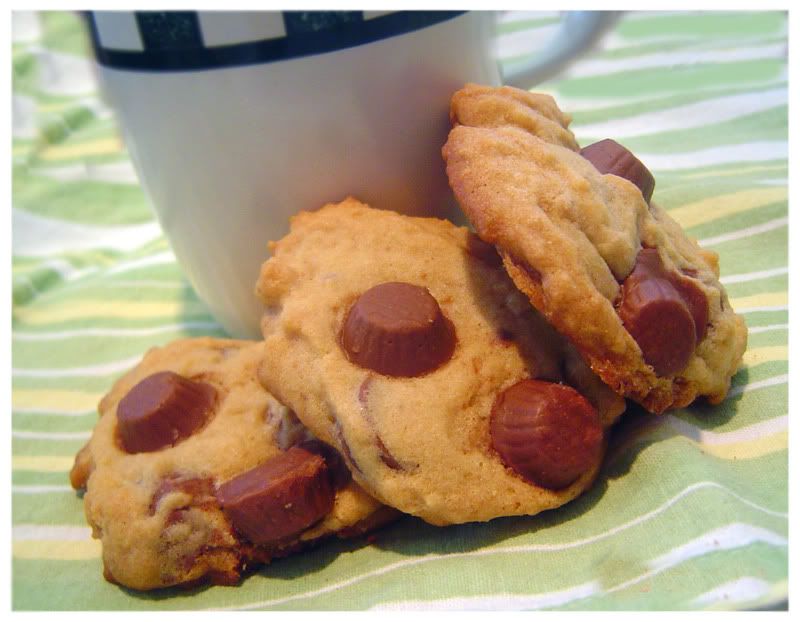 I tend to be one of the first people I know to try new products. Yes…I am a complete sucker for a new idea. I will try something new before the buzz about it hits the streets and the reviews are out on whether the product is great or a bomb. It should come to no surprise then that I snatched up something new to me this week. Reese's Premier Baking Pieces. These are miniature versions of the Reese's Peanut Butter Cup candy bars that are so popular and mini miniature versions of the Reese's Peanut Butter Cup miniatures. Got that? Basically, they are really tiny Reese's Peanut Butter Cups that are suitable for baking. They are bigger than the Reese's Peanut Butter ice cream toppers but smaller than the miniatures.
I picked up a couple of bags to take home, anxious to give them a try. I had my doubts though… how could these cute little things bake without melting? Would the peanut butter / chocolate combo overpower the cookies? Would I be left with a blended mess of chocolate / peanut butter / cookie gooeyness?
I decided to give these little baking pieces a try by using the basic cookie recipe on the back of the bag. The result? Well…let me just say this. I made these as a dessert for our church fish fry tonight, and I know they aren't going to last until then. Once my husband comes home and tastes them, they'll be gone. Not to worry…I mixed up another batch and hid them where my husband and the kids can't find them.
These little morsels stood up to the heat of the oven and held their shape perfectly. The flavor blended well with the cookie. With each bite you get a burst of creamy peanut butter and chocolate flavor.
There are so many great baking options with this product. If you go to Hershey's website you'll find several new recipes using this ingredient that will tempt you. From beverages to tarts, the possibilities are endless.
From Hershey's website, www.hersheyskitchens.com, here is the recipe for Reese's Premier Peanut Butter and Milk Chocolate Cookies:
Ingredients:
. 6 tablespoons butter, softened
. 1/3 cup butter flavored shortening
. 1/2 cup packed light brown sugar
. 1/3 cup granulated sugar
. 1 egg
. 1-1/2 teaspoons vanilla extract
. 1-1/3 cups all-purpose flour
. 1/2 teaspoon baking soda
. 1/2 teaspoon salt
. 1-1/3 cups (8-oz. pkg.) REESE'S Milk Chocolate Baking Pieces Filled with Peanut Butter Creme
Directions: 1. Heat oven to 350 F.
2. Beat butter and shortening in large bowl until well blended. Add brown sugar and granulated sugar; beat thoroughly. Add egg and vanilla, beating until well blended. Stir together flour, baking soda and salt; gradually beat into butter mixture. Stir in baking pieces. Drop by rounded teaspoons onto ungreased cookie sheet.
3. Bake 10 to 12 minutes or until edges are lightly browned. Cool slightly; remove from cookie sheet to wire rack. Cool completely. About 3-1/2 dozen cookies.
CHOCOLATE COOKIE VARIATION: Decrease flour to 1 cup; add 1/3 cup HERSHEY'S Cocoa or HERSHEY'S SPECIAL DARK Cocoa.