Jennifer over at Nutcase 101 challenged her readers last week to show the contents of their fridge. I promised her I would do it, but I am a little nervous about it. No… my fridge is not a scary dirty pit… it is almost the opposite. My fridge is always bare. How can someone who considers themselves to be a good cook have a bare fridge? Well… like all things in life, it stems back to my childhood.
(Mom, I'm going to out you here. I don't mean any disrespect at all and since I know you are you and won't take it personally, I'm writing about this)
I grew up in a house with a full fridge. Yes… we were blessed with great meals, leftovers and lots of food available. The problem with that full fridge was that you never knew how long something had been in there. My mom cooked almost every single night and we had leftovers almost every single night. That results in lots of tupperware containers full of food. Sometimes on fridge cleaning days things would get missed. I'd later open up containers that had been in the fridge to discover some sort of science experiment taking place. Because of that, I have a serious aversion to leftovers. I cannot eat them. Whatever my husband doesn't take to work gets tossed out. If something is even near the expiration date, it gets tossed out. I clean out my fridge on a 2-3 times a week basis…scouring the contents for anything even remotely old. The result?? A very bare fridge for a family of five.
What can you learn about me by viewing the contents of my fridge? Let's find out.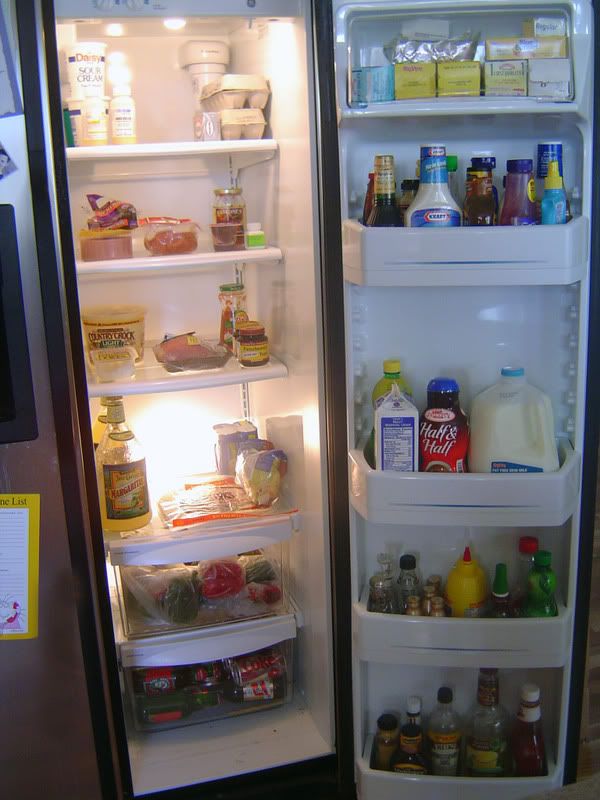 Top shelf: 3 containers of sour cream… I keep buying it because I keep forgetting that I have some at home. Lots of eggs = lots of baking. Amoxicillin – the kids have been sick and are on 2 times a day for 10 days meds.
Next shelf: Turkey & sliced cheese: The kids often have sandwiches for lunch. Pepperoni and pizza sauce – for our once a week pizza creations.
Next shelf: Pork Loin – on the menu for dinner tonight. Yeast – for all the bread baking I do. Light Country Crock – for all the bread we eat! Feta cheese – my favorite salad topper.
Bottom shelf: 2 big jugs of Margaritas…a necessary mommy treat for anyone with small children. Tortillas – an everyday staple in our house. Canned biscuits – for when I want to make Monkey Bread quickly. Bagged salad – my lunch everyday.
Top drawer – Lots of fruits and veggies and some shredded cheese.
Bottom drawer – Diet coke and beer
Door – Look at all that butter (salted and unsalted). Can you tell I like to bake? Salad dressings, condiments, milk, whipping cream, half & half etc. There is a lot more stuff in the door than I usually like to have, but since it is all still quite a ways out from their expiration date, it all gets to stay.
There…that's done! Like Jennifer, I'd love to challenge the rest of you to do this as well. We've shared photos of our kitchens… now let's see what is behind those closed fridge doors!
One last thing before I close today. It is Monday and that means it is time to join the gang over at Organizing Junkie in their Menu Planning Monday event. I usually do a half month menu, but I didn't have a lot of time to plan this weekend so I'm just doing the plan for the week.
Monday – Kirsten's Pork Loin Roast with Sesame Hoisin Sauce
Tuesday – Mom's Spaghetti and Meatballs
Wednesday – Pepper Steak
Thursday – Tuscan Chicken
Friday – Four Minute Spicy Garlic Shrimp
Saturday – Kung Pao Chicken
Sunday – Roast with potatoes, onions and carrots