We are going on day seven of sick kids. Of course, my children decide to get sick when the weather turns nice. We have gone from freezing temps to mid 60's in the matter of a week. Unfortunately, they have all been too sick to get out and really enjoy any of it.
I am also going on day two of no caffeine. I know two days doesn't seem like much, but when you are stuck at home with sick children and aren't getting much sleep at night because of it, two days seems longer than the entire Lenten season!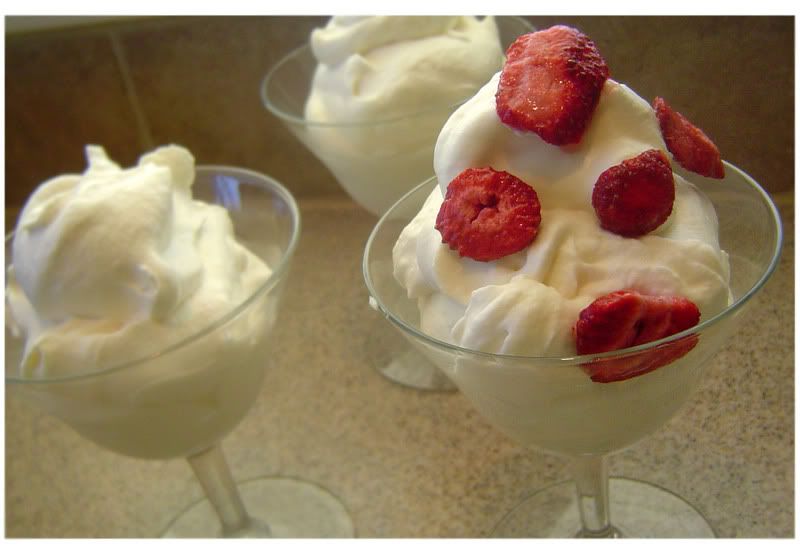 I was needing a little sunshine in my life today. I really wanted to drive down to McCormick's and order one of their chocolate bags. If you haven't had a McCormicks and Schmick's chocolate bag, you are missing out on pure heaven. The chocolate bag is just that… a milk chocolate bag filled with creamy white chocolate mousse and fresh fruit.
I would love to have a copy of that recipe or at least something close. Today, I decided to try to recreate the mousse inside of the bag. I browsed several recipes and decided to give this one a try. Unfortunately, it wasn't even close to the one from McCormicks. It was really good, but not as creamy or as chocolatey as the mousse I was trying to duplicate. It tasted just like white chocolate whipped cream. Nothing special, but not horrible either. It may have been better with fresh berries on top, but I couldn't take the kids out to run to the store, so I just did with what I had.
From NewItalianRecipes.com, here is the recipe:
Mousse di Cioccolatto Bianco (White Chocolate Mousse)
1 envelope unflavored gelatin
2 T cold water
8 ounces good quality white chocolate (you can usually find this in the baking section of your grocery. Or, even better, use a really great white chocolate such as Ghirardelli).
3 cups whipping cream
3 T sugar
2 t almond extract
Fresh mint sprigs for garnish

Preparation:
Put gelatin powder and cold water in a small dish and let sit for 10 minutes to soften.
Melt chocolate and ½ cup of the whipping cream in the top of a double boiler, stirring all the time. Stir in the softened gelatin, mixing well, then transfer the mixture to a large bowl to cool until just warm, about 10 minutes. Don't let it sit too long or the chocolate /gelatin mixture will become too firm.
Chill a large bowl and a whisk or mixer beaters in the freezer for 30 minutes before you are going to whip the cream. Whip the remaining cream in the bowl with the whisk or electric mixer for 2 minutes. Gradually add the sugar and the almond extract, and continue beating until the beater leaves soft traces on the surface and the cream holds its shape when lifted with the beater, about 2-3 minutes.
Stir ¼ of the whipped cream into the chocolate mixture to lighten it. Then fold in the remaining cream, 1/3 at a time, being careful no to over blend. Spoon the mousse into individual dessert bowls and chill for at least 1 hour before serving. To serve, decorate each serving with a sprig of mint.
This White Chocolate Mousse is perfect for that rich meal like lasagna, spaghetti, and the like. Your guests will love it!