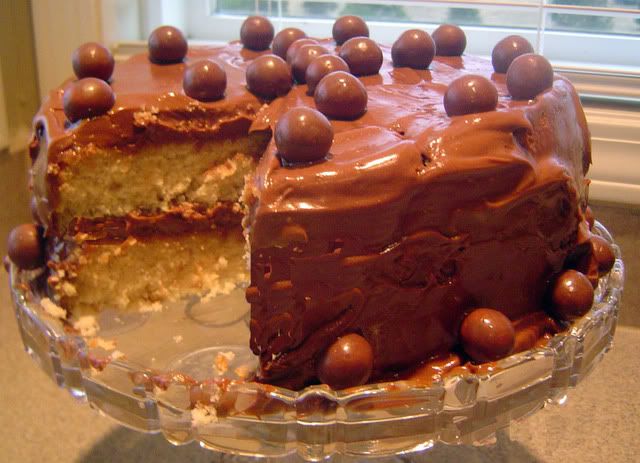 I was so excited when I opened the March 2007 issue of Food and Wine magazine. The first reason I was excited is because a letter I wrote to the editor about undertaking the Food and Wine 100 Tastes to Try in 2007 was published. The second, even more exciting reason, is that right after my published letter to the editor, there was a letter from Neil Penick in San Francisco. The letter expressed disappointment in the fact that Food and Wine magazine listed one of their must try tastes as a Malt Ball cake, but didn't provide a recipe for the cake. Well, the editor came through and published the recipe, straight from the staff at Brooklyn's Baked.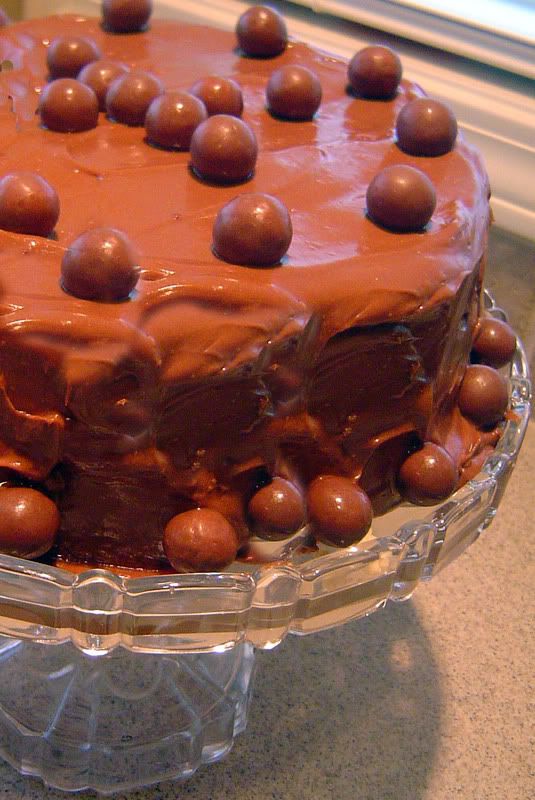 Anxious with anticipation of trying this cake out, I decided to make it today. It was cold and rainy outside and I needed some chocolate. I had all the ingredients on hand and decided to go for it. The recipe calls for 3 8 inch cake pans, but I decided to use 2 10 inch pans instead. Other than that, I followed the recipe exactly. The result? A very, very moist and tender cake with a frosting so rich that licking the spatula after making the cake will give you a bit of a tummy ache. (Yes… I admit it… I'm a spatula licker!) I really enjoyed this cake, but I know that I wouldn't be able to eat an entire slice without feeling ill from the richness. (The frosting has cream, 1 pound of butter, Chocolate, and corn syrup…get the drift on how rich it is?) This is definitely the kind of cake you want from a restaurant. Rich, satisfying, chocolatey and there's only one piece. One slice is definitely more than enough.
For the recipe, check out the March 2007 issue of Food and Wine magazine, page 24. Until then, anyone want some cake??