Was I complaining about how yesterday started off? I take it all back now… I can top the whole lock the girls in the car thing.
My morning started off at around 1:30am with Ella crying. I went in to her room and picked her up only to notice that the right side of her face was swollen and her eye was almost swollen shut. It wasn't gunky or anything… she just look like she got in a fight with a pro boxer in the middle of the night. I called Nick into her room, and after some debate, I decided to take her in to Children's Mercy Urgent Care. Their facility south of us is only about 20 minutes away and they recently just started being open 24/7.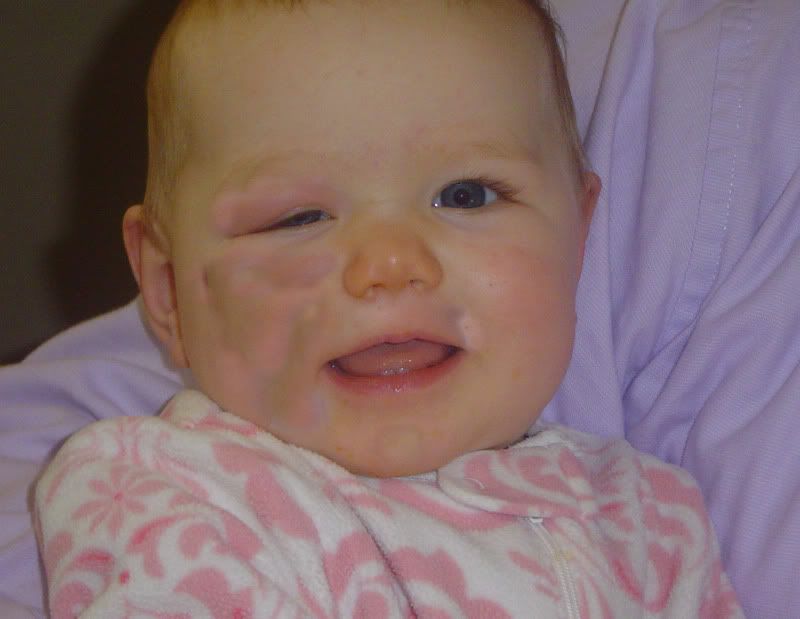 When I got to Children's Mercy the doctor's were perplexed. Had she fallen? Had she eaten anything strange? How long had she been on Amoxicillin? After answering all of those questions and poking and prodding at her a bit, they decided to send us to the Children's Mercy downtown so that she could get a CAT scan. So…3am, I'm driving downtown trying to find the hospital in the dark. Not a place you want to get lost at when you are by yourself! I made it and they took her back to a room right away. By 7am, they had given her an IV (had to stick her twice to get it) and soon after she had her CAT scan.
It seems like we spent a lot of time waiting, which is normal when you are in the ER at a Children's Hospital. They wouldn't let her eat or drink, so she was tired and hungry, but still smiling.
We found out that the Amoxicillin that Ella was taking for her ear infection wasn't working and the infection in her ear had spread to the tissue behind and around her eye and into her sinuses. Thank God it wasn't anything serious, but since the eye tissue is so close to her brain, they wanted to make sure that it didn't get worse. They gave me the choice of having her admitted for observation, or to leave and take her in first thing to the doctor tomorrow morning. By this time it was 10:30am and I was soooo tired of being there, so we decided to come home. She is on a stronger antibiotic and is napping peacefully now!
I am so thankful to have a Children's Hospital so close to us. I was crying when they were doing the IV…she was just so helpless and unknowing. I can't imagine how parents deal with things even worse than what we have been through. You have to be a pretty strong person to watch your child go through multiple surgeries, chemo, painful physical therapy, etc.
Well, I'm off to take a nap. The picture above was taken a couple of hours after her antibiotic was taken. Her face still looks like it is bruised and swollen, but she is already looking much better!
What a way to spend her 9 month birthday, isn't it?