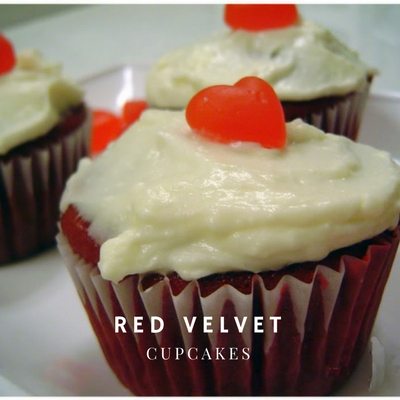 I have officially become domesticated. There have been little signs along the way that this transition was taking place, but I believe it is now official. When I bought my first hostess apron from Etsy, that was a sign. When Fly Lady and Recipezaar took over Entertainment websites on my list of favorites, that was a sign. When I traded in my Nissan Maxima for a minivan, that was yet another sign. The final nail in the coffin of domestication came this weekend when I was in charge of coordinating our church bake sale. Yep…what says getting older, mom and domestication better than a church bake sale?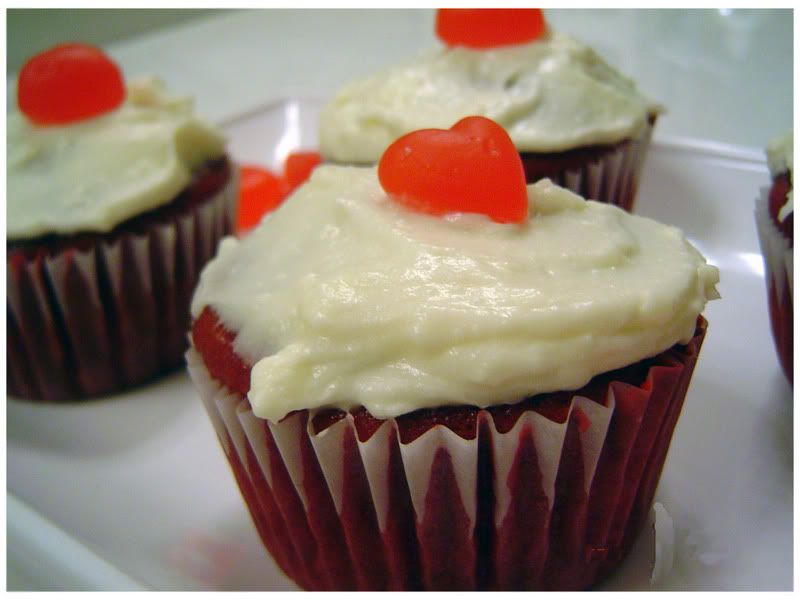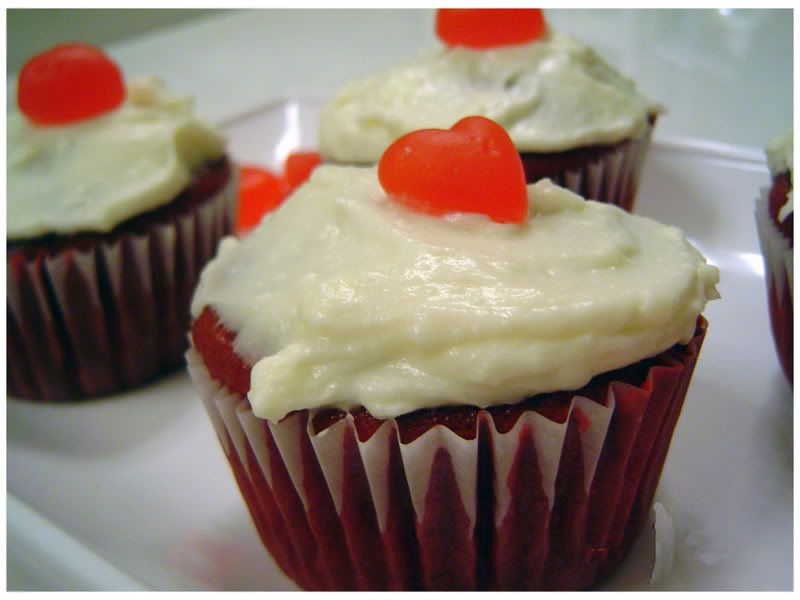 The theme for our bake sale was "Give a Little Love". The ladies in our parish were encouraged to make up treats that would fit the "Give a Little Love" theme. We had frosted heart shape cookies, heart shaped cakes, heart shaped brownies, and a whole slew of heart sprinkled goodies.
I decided to make Red Velvet Cupcakes for my contribution. What says love like a nice, moist, red cupcake topped with a generous amount of cream cheese frosting?  Sounds like love to me!
Here's the recipe from Recipezaar if you'd like to share the love too.

Red Velvet Cupcakes
A lovely little red velvet cupcake recipe!
Ingredients
2½ cups all-purpose flour
1 teaspoon salt
½ cup unsalted butter, softened
1½ cups sugar
2 eggs
2 tablespoons cocoa powder
2 ounces water
2 ounces red food coloring
1 cup buttermilk
1 teaspoon vanilla extract
1 teaspoon white vinegar
1 teaspoon baking soda
cream cheese frosting
1 (8 ounce) package cream cheese, softened
½ cup unsalted butter, softened
1½ cups powdered sugar
1 teaspoon vanilla extract
Instructions
Preheat the oven to 350 degrees. Grease 12 cupcake cups or line with paper liners.
Cream butter and sugar until fluffy.
Add eggs and blend well.
Make a paste of cocoa and food coloring and add to the butter mixture.
Sift flour and salt togethr into this mixture.
One at a time, add the following ingredients: buttermilk, vanilla, and water.
In a small bowl, combine the vinegar and the baking soda. Fold it into the cake batter. Make sure it's incorporated, but don't beat it.
Pour the batter into the cupcake cups. Bake for 15 to 20 minutes, until the cake springs back when touched.
Remove from oven and let cool for about 10 minutes, then turn out of pan and onto a rack to finish cooling completely.
Cream Cheese Frosting:
Blend together the following: 1 (8-ounce) package cream cheese, softened, ½ cup unsalted butter, softened, 1-1/2 cups powdered sugar, and 1 teaspoon vanilla extract. Blend until smooth.