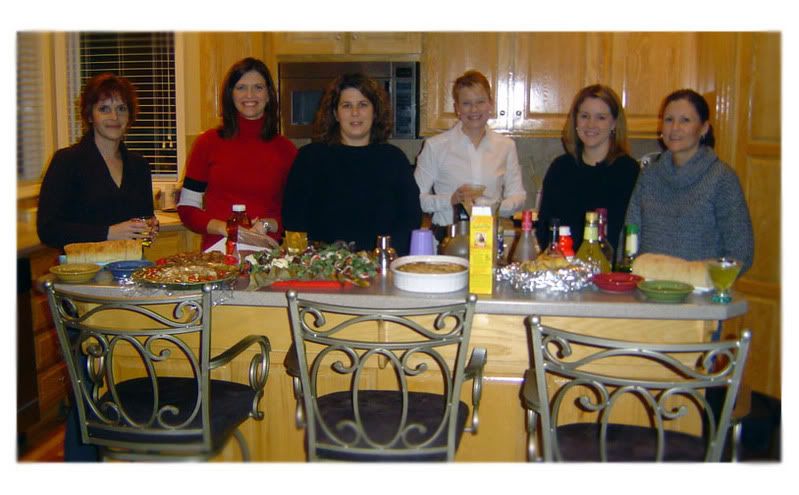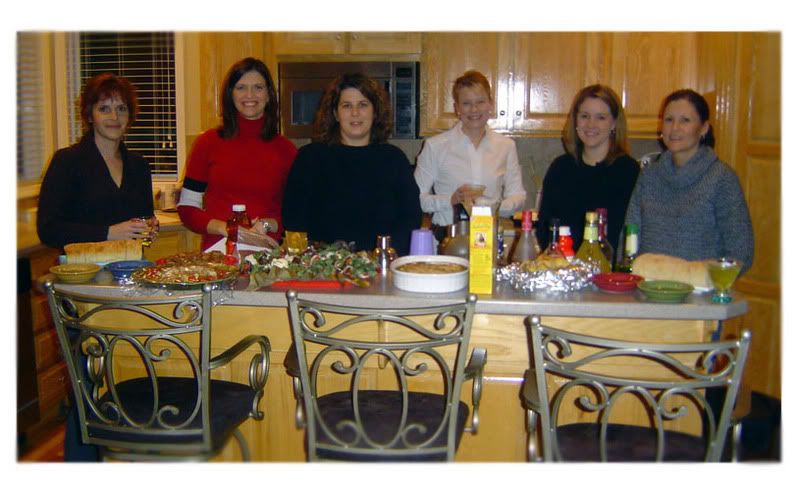 I have been wanting to throw a Golden Globes or Oscar night party for as long as I have had a home of my own. Each year, I'd just get settled after the crazy holiday season, sit down in front of the TV and notice that the award show was on. It would sneak up on me before I could say "I'd like to thank the academy" and my opportunity would be shot.
This year was different. As a part of my commitment to host a party every month in 2007, I thought about the month of January and I knew that I wanted to have a Golden Globes party. I enjoy both the Golden Globes and the Oscars, but as a mom with small children, getting out to see the movies is a little harder than it used to be. Since the Golden Globes is all about TV and movies, I knew it would make the perfect bash for January.
The evening started at 6:45. With my Tivo set to record the show and of course, the red carpet appearances, the 8 ladies and I all gathered around my kitchen to create our cocktails. I had prepared drink menus for everyone, including the recipes. We had the choice of 3 different kinds of martinis, margaritas, Tattoo and coke, or wine. Everyone chose to make a martini, and we got to shakin' creating our first round of cocktails.
We then filled our plates up and settled in the living room to catch the stars arriving on the red carpet. I had Golden Globes Bingo for everyone to play (with prizes going to the first two guests to get an X Bingo) and then we had our "guess the winner" quarters game. Everyone completed a ballot prior to arriving and for each category, we each put a quarter into a martini glass. The person or people who guessed the correct winner won the pot. If no one guessed it right, we kept the money in for the next round. If more than one person guessed it right, those ladies split the winnings.
We had a great time and everyone has requested that this be an annual event. Despite all of the ice and snow we've had the past few days, my turnout was great and everyone was enthusiastic and excited to be here. We were all a little disappointed that the dresses were pretty tame… there weren't any huge fashion faux paus. Some of the speeches were worth a laugh (aka Sacha Cohen's jaw dropping acceptance speech and Prince not being there to accept his award), and the Golden Globes Bingo made us look out for some bizarre things that we may have otherwise missed.
All in all, this was a great event. A tip for anyone else wanting to throw an awards show party…. get TiVo. It was so nice to watch the show at our own pace, fast forward through the commercials, pause to stare at McDreamy & McSteamy and to take a break for cocktail refills. I went the simple route with my party but you could make it as elaborate as you want (roll out the red carpet, require formal attire, have some paparrazi snapping photos, have TV/Movie Trivia, etc).
If you, like me, have been wanting to throw an awards show party go ahead and do it! Your friends will love it and it'll be a wonderful variation on the typical Girls Night Out.
For our martini recipes, visit:
Raspberry Cheesecake Martini