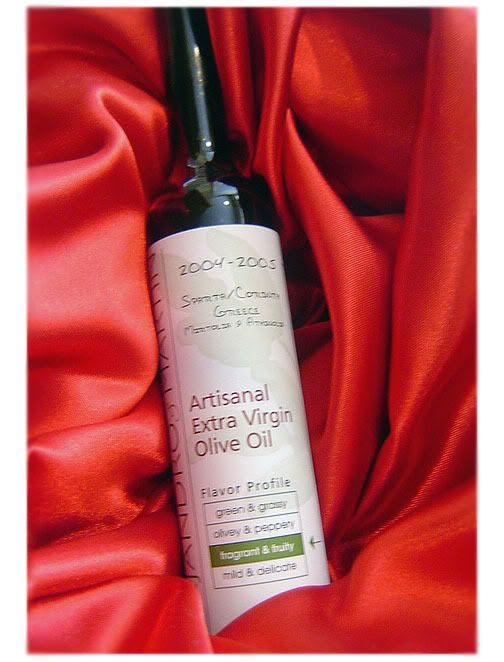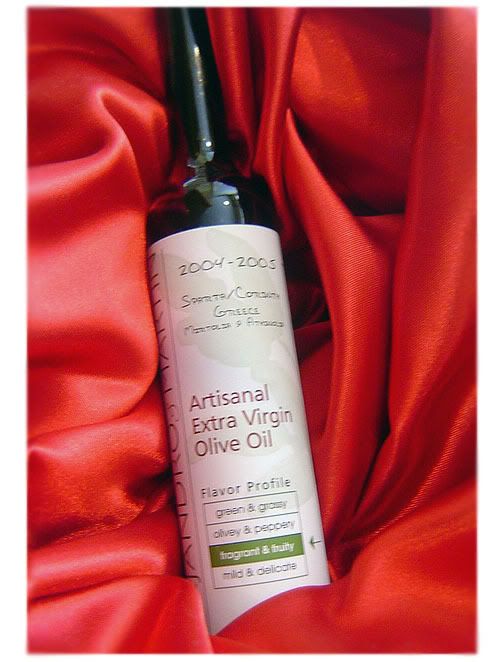 My first official "Must Taste" of 2007 is Food and Wine Magazine's #4 taste – Greek Olive Oil. I've actually had the pleasure of tasting Greek Olive Oil in the past, but decided to do things right and give it a try in the year 2007. The olive oil I decided to use for this is my new favorite olive oil from Alejandro & Martin… their 2004-2005 Fragrant and Fruity Greek Olive Oil.
I wasn't aware of the fact that a simple bottle of Greek artisan olive oil could be so different than what we've been using on a regular basis in the past. I was happy with the olive oil we used, until now. Now that I've tasted the various varieties of Olive Oil from Alejandro and Martin, we won't be turning back. The color is natural, rubbing it between my fingers it lacks the "heavy" feel of my other olive oil and the flavor is just as intense as they profiled it to be. In this instance, the flavor of the Greek fragrant and fruity olive oil is just that… fragrant and fruity, with a very pleasant crispness.
I decided to test the Greek Olive Oil a few ways. First off I decided to take a little shot of olive oil to let the flavors marinate my taste buds. I was expecting it to feel like taking a shot of Crisco, but it was suprisingly pleasant. In fact, I can imagine that in a few years Olive Oil tastings will be a hip and trendy thing to do, as are wine tastings today. I wasn't sure if I was supposed to swallow the olive oil or if I should spit it out. I decided to swallow it and had an altogether different flavor experience as it hit the back of my throat…touching on the slightly peppery side.
The next avenue for tasting was as a dipping oil for a fresh baguette. I typically mix my olive oli with dipping spices, but the flavor of this oil stands up to the fresh baguette perfectly on its own.
I had big plans to use this Greek Olive oil in a recipe from the Alenjando and Martin website. The recipe is for Marsala Wine Baby Cakes. However, if you remember back to my deviant menu planning on Monday when I was supposed to make Chicken Marsala, the Marsala Wine that I swear we had, has disappeared. I plan on picking up a bottle the next time I'm at our local wine shoppe… until then I'll just have to enjoy this wonderful Olive Oil as is.
Was Food and Wine Magazine right in saying that Greek Olive Oil is a must taste in 2007? I do believe so. This is one taste I'm glad to have had the opportunity to experience.
One month ago today, I dished about Getting Spicy With Hubby
Over at our family blog, I dished about the To Be Read Challenge