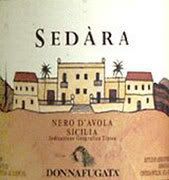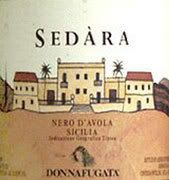 I will be the first to admit… I am not a wine snob. My husband and I enjoy wine, we enjoy going to wine tastings, and we have a nice collection of wine. We do not, however, have the faintest idea about what wines are better than others and why. I personally like to pick the wine we drink based on how pretty the label is. Yes… I judge the wine by the cover (I can feel you cringing now, Kate!). Another plus in my book is if the wine has a fun or interesting name.
I do love to drink wine and was so pleased to see how many great wine selections there were in the Food and Wine 100 Tastes to Try in 2007 list. Taste number 40 is Southern Italian Wine. Based on how pretty the label was, I chose to order a bottle of Donnafugata Sedara. We were eating T-Bone steaks with friends and this was the perfect companion to the meal we had.
I don't really feel qualified to critique this wine, but in plain "wine gal" terms, it was a very dry wine with a full fruit body. The aroma was sweet and the color was a deep ruby red. In my husband's terms…"I would drink it again." So, there you have it… two thumbs up from two label judging wine drinkers!
I'm behind on posting some of my Food and Wine Top 100 Tastes challenge. We tried a couple of other wines over the weekend that I'll blog about soon. I'm sure since my wine posts are so informative, you'll be hanging on the edge of your chair until the next wine post comes along.