This morning I made a quick post, reaching out to the food blogging community for some help finding a new homemade pizza crust recipe. Wouldn't you know it? I left soon after to take my daughter to dance class only to return to find the comments by you all with some fantastic pizza dough recipe recommendations. I looked through all of the recipes and could not decide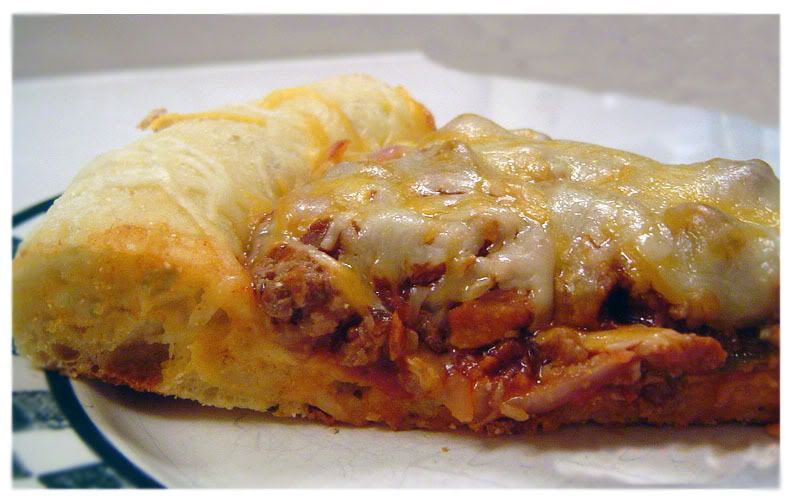 which one to go with because they each one fit the bill of what I was looking for. I wanted an in between crust.. not too thick and not too thin. I wanted it to be a tried and true favorite and I wanted it to be something I could make in time for dinner tonight. Every recipe suggestion fit these guidelines. Now, I had a dilemma. Before posting this morning, I was stuck with my one tried and true crust recipe, but I was ready for a change. After my post, I was confronted with too many options! I decided to take the easy way out. I went with Claire's recipe because she was the one first to post a link to her recipe. We have homemade pizza often, so with each time I have pizza on my menu, I'm going to go down the list and try the other pizza crust recipes as well.
Thank you all so much for your help! Now, for the results.
As I stated before, I used Claire's recipe. By reading her blog, I understand that this is a family recipe passed down by her dad. I tweaked the recipe some because I decided I wanted to make my bread machine do the work. I placed all of the recipe ingredients in my bread machine on the dough cycle and left to tend to my children. When the dough was done, I took it out of the bread machine and let it rest in the cornmeal coated pan for a short bit. This dough was so easy to work with. It stretched with ease and I must say… this was my best pizza crust attempt ever. The crust was soft and tender, just like we like it. It had a great flavor and made the perfect base for the Southwest Pizza I made. Thank you Claire for sharing this family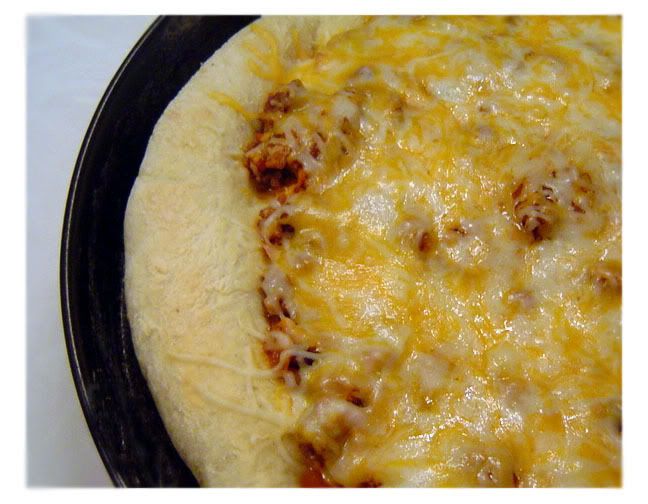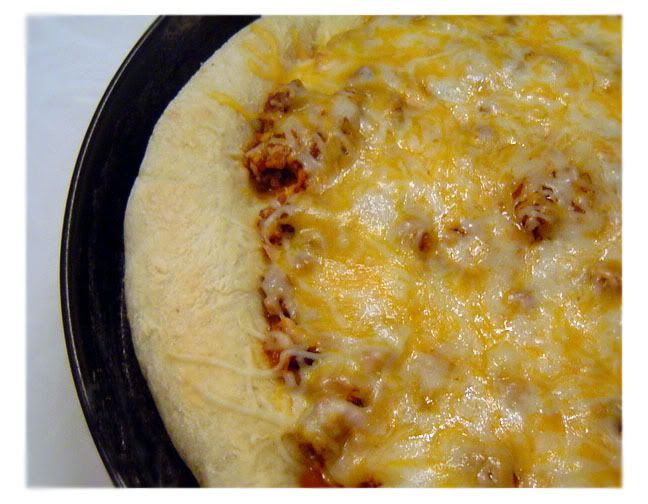 recipe… it was fantastic! Thanks to the rest of you for your help too. I look forward to more fun with pizza crust in the near future.
Head on over to Claire's wonderful blog, Cooking is Medicine, for her pizza crust recipe.
As for the pizza, here is my adaptation of yet another Jan/Feb 2007 Simple and Delicious recipe! (I told you this issue was a goldmine!)
Southwest Pizza
1/2 pound ground beef
1 cup southwestern salsa (the kind that has corn and beans included)
1/2 cup black beans
1/2 cup cooked barbecued shredded pork
1/2 cup chopped red onion
1-3/4 cups shredded "Taco Mix" cheese
Follow crust instructions and then prebake at 400° for 6-7 minutes or until golden brown. Meanwhile, in a
skillet, cook beef and onions over medium heat until no longer pink; drain. Stir in salsa, black beans and pork. Cook for a few minutes until warmed through. Spread over crust. Sprinkle with cheese. Bake 6-8 minutes longer or until
cheese is melted.
Yield: 6-8 servings.