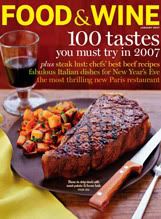 OK ladies and gentlemen… the time has come. 2007 is right around the corner. If you remember, a couple of weeks ago I wrote about the Food and Wine Challenge I am undertaking in the year 2007. In the January issue of Food and Wine magazine, they listed "100 Tastes You Must Try in 2007". Being the overly ambitious dreamer that I am, I decided to challenge myself to taste the 100 tastes that they suggest in the year 2007. Let's be realistic though, I have three small children and am a stay at home mom with one consistent income. Traveling to Paris, Australia, etc. to try one of their suggested tastes would be so wonderful, but it's not going to happen (wouldn't that be fun though.. to be that spontaneous?). This is where you all come in. I'd love to find fellow bloggers who can report back to me on the things that I won't be able to do… let me know what exactly I'm missing out on and if Food and Wine is correct with their evaluation that these things are "must try's".
Here's the list of the "100 Tastes You Must Try in 2007". I'll write next to the ones that I know I most likely won't be able to complete. I've had several things already, but feel like it's only fair that I start fresh actually tasting these things in the year 2007. If there are any of the "tastes" out there that I'm unable to complete and you'd like to join forces, please let me know. It could be a fun way for us all to increase our culinary palate and explore things that we otherwise may have missed out on.
Without further ado, from the January issue of Food and Wine magazine, here is the much anticipated list (for complete details visit http://foodandwine.com/articles/100-tastes-to-try-in-07:
Langoustine
A Burgundy at La Paulee de New York – any takers?
Good fast food noodles from wagamama.com – how about this one?
Greek olive oil
Greek Wine
Greek Cuisine – they suggest eating at Parea restuarnt in NYC, however I can probably find a suitable substitute locally
Greek Spices
Greek Cooking School Feast – Oh, I wish!! Anyone out there so lucky?
Corn Bread with Scallions
Argentine Malbec
Phoenix Pale Ale
Dale's Pale Ale
Porkslap Pale Ale
House-Infused Bourbon
Aspen Kettle Corn
Great Canadian Wines from the Okanagan Valley
Scandinavia's Avant Garde Cuisine – I don't think I'll make it to Scandinavia this year
House Made Mixers
Japanese Sweets – they suggest visiting Toraya Cafe in Tokyo…any takers?
Truffle Teas
Dan Dan Noodles
Cocktails that don't pack a punch (low alcohol drinks using Italian aperitifs
Maple flakes
Boutique Aussie Wines
Artisan Swiss Cheese
A meal at Les Ombres in Paris – another one that I wish I could do!
Peruvian food
Tiny Sweets
Chicago Power Meal – I might be able to swing this one
Virgin Strawberry Bellinis
Wine at Vino Volo (airport wine bar)
The whole tree – leaves, fruit and wood
Japanese Frites
Santa Caterina Maret in Barcelona – any takers
Fallon and Byrne market in Dublin – sounds fabulous, but don't think I'll be able to this year
Mill City Farmers' Market in Minneapolis – I may be able to do this one, but I'm not positve
Chef Marc Vetri's Pizzas in Philly – this is another one that I might be able to do, but can't guarantee it
Bacon Baklava
Sucrine
Southern Italian Wine
Icelandic Ingredients
Healthy snack bars that pass the taste test
Amaranth
Kamut
Buckwheat
Rosa Mexicano's salsas
Custom bred pork – hmmm…maybe?
Syrah from South Africa
Hot Hunan Shrimp
Fire pit foods
Clandestine dinners
Veal Muenster burger from Father's Office (I wonder if I can find something like this arond here?)
African spices and teas
American raw milk cheeses
Wine from Douro Valley, Portugal, Guadalupe Valley, Mexico, Long Island NY, Slovenia, and Tasmania, Australia
Automat Wine
Bluebrass Cobbler
Quick Mediterranean at Leon in London – sounds good… wish I could do this one!
Poke to go – they suggest doing this at Tsukiji Fish Market in Tokyo – anyone able to do this one?
An Adria Innovation (tienda.com)
Green Bean Salad with Toasted Pecans
Pea and Mint Risotto
Deconstructed Negroni at Bourbon and Branch in San Francisco – any San Fran takers?
The Majestic Restaurant in Singaore – how about this one?
Freeze Dried Flavors
Catered Cocktails – is there such a thing in KC? Are we that hip?
Exotic Ice Cream
2006 Sauvignon Blanc from New Zealand
Roasted Cauliflower with Ajvar Dressing
Battered Cod with Marie Rose Sauce
Mangosteens – currently not legally imported in the US, but may be soon. This is a "we'll see" one
Sichaun peppercorns
Wild Artichokes
Iberico Ha,
Pork Fried Rice
Fruit Chips
Kaiseki – can't visit the restaurant but may be able to get my hands on the cookbook… would that count?
Sri Lankan hoppers from Gardiner restaurant in Toronto – anyone?
Marques de Riscal Rioja in Rioja – I so wish!
Fortnum and Mason's restaurant in London – anyone from London able to do this? They have an ice cream parlor!
Melted marshmallows from the Avenues at the Peninsula Chicago Hotel – another one I'll really try to do!
Fish chile peppers
Feta cheesecake and wine poached dates
Gordon Ramsay restaurant in NYC – anyone?
St Alban restaurant in London – another one up for grabs
Sensing in Paris – and yet another one
Rockpool Bar and Grill in Melbourne – and another?
Pieree Gagnaire restaurant in Hong Kong – and another?
Sushi at David Bouley's cooking classes in Manhattan – and another?
Malt Ball Cake – I have to figure out a way to get my hands on this Brooklyn creation!
High Tech Caviar
Mark Herold Cabernet
Cielo at the Boca Raton Resort and Club – I don't see anyone being able to do this one… if you can, let me know!
Croatian Olive Oil
Spanish Matiz Piparras
Peperoni Cruschi
African Honey
Aussie Raisins on the Vine
Le Demon Vert
Bruleed Key Lime Tarts
The Food and Wine Website has also tempted me with 15 more tastes to try… I may have to give these a shot to make up for the restaurants I can't go to! I did mention before that I was an overly-ambitious dreamer, didn't I? I forgot to throw in crazy.
Well my friends, that's it. Looks like I have a year of new and wonderful tastes, and lots of wine ahead of me! Hope you can join me in this culinary adventure.