Great Friends, great food and a whole lot of fun… that completely sums up our dinner party last night. It was absolutely perfect.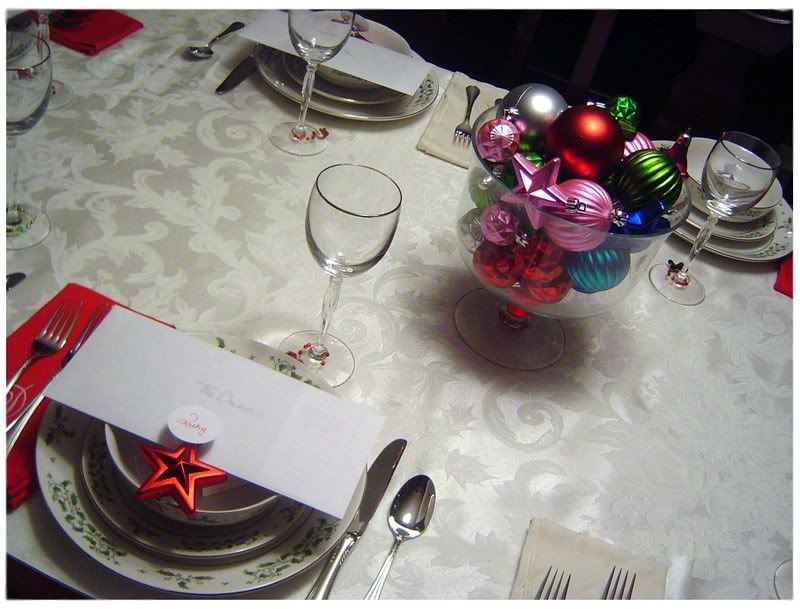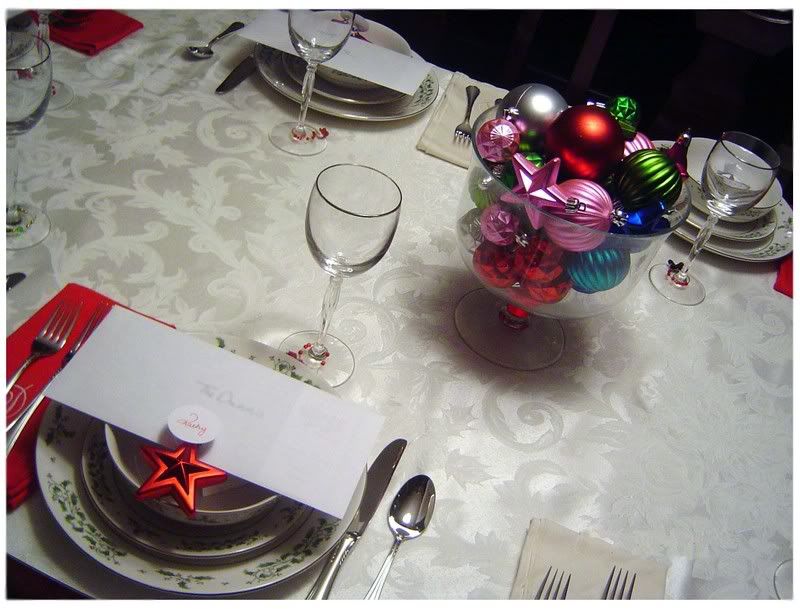 The evening started at 6:30pm. Our two oldest children were down the street with a babysitter. I took the chance on keeping the baby here, thinking she would go to bed early. She was such a champ… I put her down at 6:15 and she didn't wake up until 11:30pm, right when our guests were leaving. I could not believe I was that lucky!
Taken from the pages of my lovely Pamela Barsky dinner party journal, I'll give you the scoop.
The Occasion: 4th Annual Christmas party with my old M.O.M.S group, who have now become some of our best friends
Guests: Sara, Mark, Kathy, Mark, Joanna, Bobby, Nick, Kristen
Cocktails / Wine: Oh boy…we drank a lot. The wines were Sebastiani 2003 Cabernet, 3 Blind Moose 2003 Cabernet Sauvignon, Leaping Lizard 2004 Chardonnay, Bloom 2006 Riesling, Blackstone 2003 Merlot, Blackstone 2005 Sauvignon Blanc, Turning Leaf 2000 Merlot, Cecchi 2003 Chianti Classico, Knob Creek Whisky and water, Jameson's and water, and a few random cocktails thrown in. Yes – we were all feeling it the next day.
Menu:
Memorable Outfits: Nick's purple button up shirt and Bobby's sweater vest were quite the topic of conversation for their "Metrosexual" style. Joanna had really cute shoes on as well, which made for great conversation too!
Memorable Moments:
Our dirty Santa gift exchange… it was so much fun. The gift I gave, which was a big Christmas Snowflake platter with a certificate for my homemade Cinnamon Rolls delivered to their house got stolen the most (by girls and guys) and ended up getting kept by Sara. I got some incredibly comfortable, fluffy, soft slippers.
I placed "getting to know you" type questions at each persons seat. We are all really good friends, so know each other pretty well, but these questions were about things we never really talk about. It was fun getting in deeper conversations with our friends.
My girlfriends opening their "Quote Mark" bookmarks that my friend Karen Beth made.
Playing Apples to Apples. We were all in tears laughing so hard during some parts of the game. This is one of those games that get funnier and funnier with each glass of wine, as everyone tries to argue their case.
Memorable Conversations:
Our soul mate conversation. Bobby and Joanna apparently have different views on the whole soul mate thing. It was funny to see how worked up Joanna was getting as Bobby just egged her on.
The answers to the question "What career would you choose if salary wasn't an issue?" and "What's the best decision you have ever made?"
Any conversation with Bobby is memorable. He's an attorney and can debate just about anything.
There are so many more…at the risk of boring the one person who has read this far (hi Mom!), I'll quit here!
Most embarrassing moments:
I can't really think of anything. Mark D got a little animated trying to prove that the card he put down during Apples to Apples should win and he knocked over a full glass of red wine on our cream colored tablecloth, breaking one of our Noritake Crystal wine goblets. Its not a party unless something gets broken 🙂 My husband was very diligent today, working on getting the stain out, and he completely succeeded. Yay!
Next time I will:
Start the meat later. It was ready when we were having appetizers. It was still hot when we sat down to eat dinner, but next time I'll time it a little better.
Next time I won't:
There is not a single thing I would do differently besides the timing of the meat. It was a perfect evening spent with a wonderful group of friends.