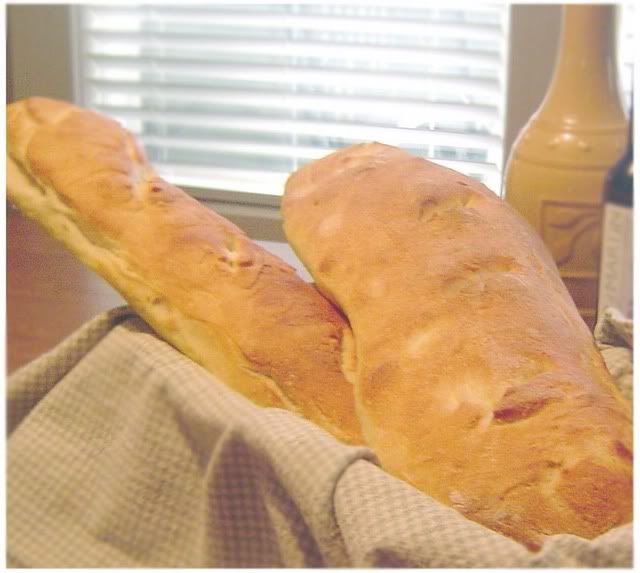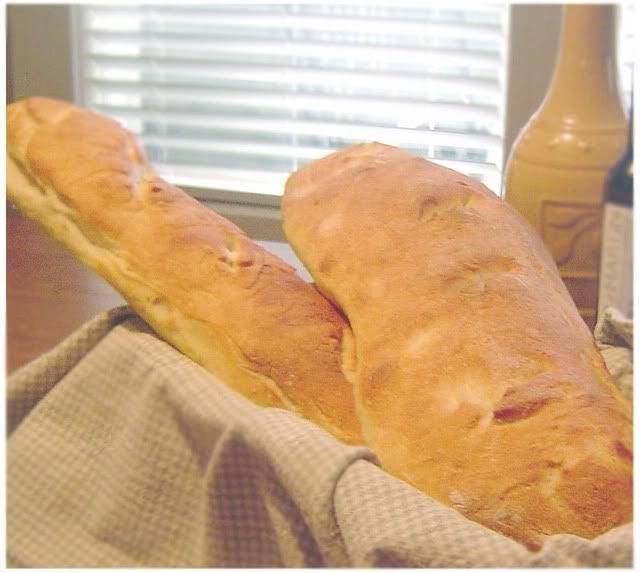 If you haven't figured this out already, I'm a carb girl. I love a loaf of fresh baked bread and I am convinced that I could live on bread alone. I have yet to meet a bread I didn't like. That's not to say that I haven't had a few bread making disasters in my kitchen, but for the most part once I got over my fear of yeast and started baking my own bread, I've managed to build quite a reputation among my friends as the "go to baker". Whenever there is a function and I'm asked to bring something other than a fancy kids dish, bread is usually what is requested.The one thing I haven't mastered, until today, was the Baguette. For some reason my baguette's have never turned out right. They are usually way too hard on the outside, and not really that soft and chewy on the inside.
We're going to a New Year's Eve shindig tonight and I was asked to bring, among other things, bread. I was feeling quite ambitious and decided to try a new recipe. S'Kat on Recipezaar posted a fresh baguette recipe that seemed to be popular among other chefs and had a set of directions that were different than what I've attempted in the past. S'Kat recommended that during the preheating of the oven process and the baking process, to fill a dutch oven up with water and place it in your oven. This will eliminate the need to continuously open up the oven to spritz the dough while it is baking (which is the method I've always tried) and will create the moist environment needed to obtain a nice crusty outside and a soft chewy inside.  The results were right on!
I baked my bread for just a tad longer than I should, but it was still soooo good! It had the perfect crusty/chewy texture I was looking for. I baked two batches of this bread so that we could test one batch prior to the party and then have one to take with us to the party. For our sample baguette, we tried it with some delicious Alejandro & Martin Olivey and Peppery Olive Oil (have you tried their EVOO yet?).  We also mixed in some bread dipping spices to make an  even more delectable combination. In the past, I have made my own dipping spices, but my husband gave me a jar of Dean Jacob's bread dipping spices, and we tried the olive oil and baguette with those. It was delicious. A little party for our palate.
If you are rethinking that New Year's resolution to give up carbs, give S'Kat's recipe a try. I guarantee you it will keep you from going over to the dark side. Here's the link: S'kat's Fresh Baguette Recipe.
One month ago today I dished about Apples to Apples and more fun games
Over at our family blog I dished about Mommy Doesn't Do Snow