This giveaway is now closed. The winner of the Masterbuilt Butterball Indoor Electric Turkey Fryer, chosen by Random.org, is Grace Good from the blog Gracefully Gluten Free. Congrats Grace!
If you weren't the lucky winner, don't fret. Amazon.com has the Masterbuilt Butterball Electric Turkey Fryer marked down significantly right now! Order now and it can still get to you by Thanksgiving!

Thanks to everyone who entered. Have a Happy Thanksgiving!
We have lots of great giveaways going on this week. Make sure to enter the giveaway for the Bush's Beans and Culinary Institute of America prize pack as well as the giveaway for 1 of 7 Quaker Chewy Afterschool Rocks Toolkits, including an iTunes gift card and other fun items!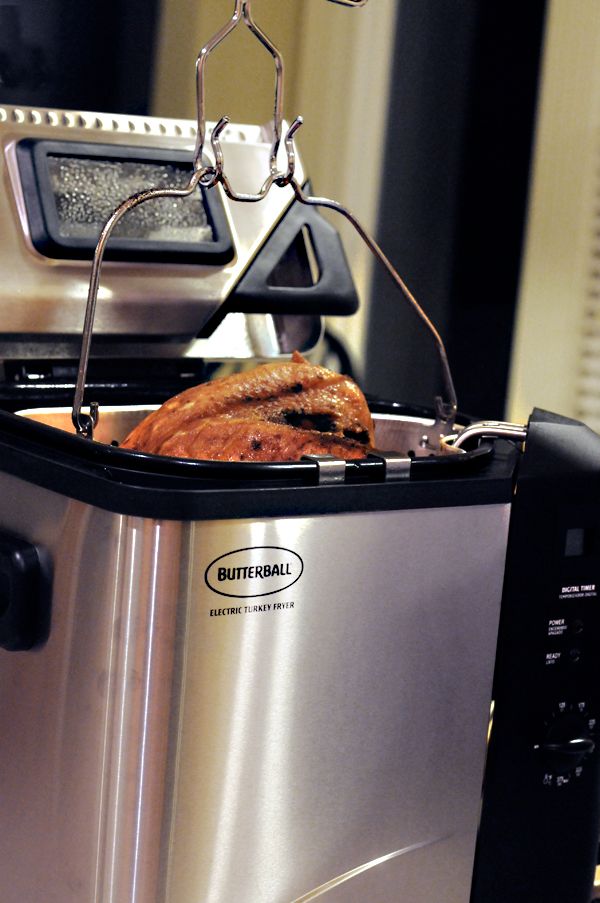 Last night was kind of a scary night at our house.
I'll start by telling you that my husband has always had a bit of a "fire" paranoia. When we were first married, he would be doing the laundry (yes… he does the laundry…I consider myself to be very lucky!) and he would have to check the dryer every 10 minutes because he'd be nervous about fire. One time I wanted to leave a light on for our dog while we were out for the evening and he would have nothing of it. What if the house caught on fire while we were gone because of that one light bulb being on?
So, it came to a bit of a surprise to me when he decided, after we borrowed all of our friends fryers for the Shrimp Boil we hosted this summer, that he wanted a turkey fryer. We all know about the horror stories with turkey fryers and house fires. My husband wanting a turkey fryer was a step to fire paranoia recovery.
The timing couldn't be more perfect when a rep for the Masterbuilt Butterball Electric Turkey Fryer contacted us to see if we'd like to test one of their turkey fryers as well as give one to a lucky Dine & Dish reader. Even more exciting was the fact that the Masterbuilt Butterball Electric Turkey Fryer is one of the only turkey fryers with a CSA certification and a design that meets Underwriters Laboratories Inc. standards.
Even with that glowing endorsement, we still sent our kids away from the kitchen, had a fire extinguisher at hand, and nervously watched over our fryer as it cooked our Butterball turkey. About half way through the cooking process,  I looked at my husband and said "You realize, if the fryer hasn't exploded by now, it probably isn't going to explode!"
We've conquered our turkey frying fear and now feel like we could do it again and again without any trepidation at all. And, we can't wait to do it again and again because this was one moist, delicious and amazing tasting bird!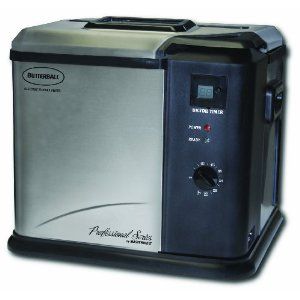 In addition to making a great turkey, the Masterbuilt Butterball Electric Turkey Fryer:
Retails at $159.96
Has an adjustable thermostat temperature control
Stainless steel construction
Porcelain-coated inner pot
Digital timer
Folding lid with window and filter
Cooking basket with drain clip
Drain Valve for easy cleaning
Saves on oil – uses 1/3 less than conventional turkey fryers
It can feed up to 8 people when frying a 14 lb turkey
Oh – and much to our excitement… the turkey fryer also boils and steams! Hello seafood boil!
How would you like to win a Masterbuilt Butterball Electric Turkey Fryer, a $15 coupon for a Butterball turkey and the cookbook Dadgum That's Good! from John McLemore, the CEO of Masterbuilt? Entering is easy!
Simply leave a comment on this post telling me how you usually spend the Thanksgiving holiday.

To earn an extra extra entry, become a fan of Masterbuilt on Facebook, then come back here and leave a second comment on this post.

All entries must be submitted by midnight CST on Monday, November 15th. Winner will be chosen by Random.org. The winner has 48 hours to claim the prize once notified. If the prize is not claimed at that time, I will use Random.org to choose another winner.
Do you want more chances to win? A few other bloggers are giving away a Masterbuilt Butterball Electric Turkey Fryer. Check out their giveaways as well!
Happy entering, and good luck!
And don't worry… if you don't win one of the giveaways, you can always purchase this great fryer off of Amazon and have it to your door before Thanksgiving!
Discalimer: Masterbuilt was kind enough to send me one of their turkey fryers, a Butterball turkey coupon and the cookbook, however I was not compensated in addition to that. The opinions expressed within this post are my own.