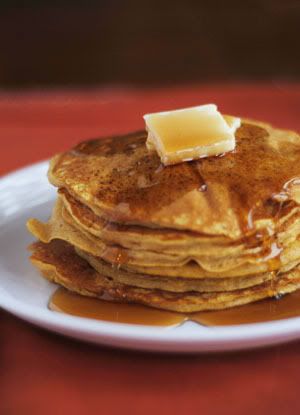 I seem to be out of words tonight, but luckily sometimes there are things that don't need much of an introduction. This pancake recipe is an International House of Pancakes ® copycat recipe. You wouldn't think that a couple of measly little tablespoons of pumpkin and cinnamon would change the flavor of a simple pancake that much, but these were divine. Fluffy, melt in your mouth, full of pumpkin flavor delicious!
Remember, you have until midnight on the 24th to enter to win the Pillsbury Gift Basket giveaway. Head over there now and leave a comment about your favorite kitchen shortcuts!
Speaking of shortcuts, I am not sure if I have mentioned this before or not, but a lot of the recipes I use call for buttermilk. I never buy buttermilk. I always use 1 Tbs of lemon juice (or white vinegar) per 1 cup of milk. Let the lemon juice/milk sit for about 10 minutes until it curdles. Stir together and you have a great buttermilk substitute!
Copycat International House of Pancakes ® Pumpkin Pancakes (adapted from Recipezaar)
15 min | 10 min prep
SERVES 3 -4
Preheat a skillet over medium heat. Coat pan with oil cooking spray.

Combine eggs, buttermilk, butter, pumpkin, sugar, and salt into a large bowl. Use an electric mixer to blend ingredients.

Combine remaining ingredients in a small bowl. Add dry ingredients to wet ingredients and blend with mixer until smooth.

Pour the batter in 1/4 cup portions into the hot pan. Should form 5-inch circles.

Flip the pancakes and cook other side for the same amountof time, until dark brown.
Are you looking for some more recipes utilizing pumpkin? Check out what these food bloggers are cooking up!