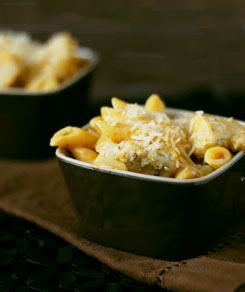 I have been sitting here, with my computer on my lap, for the past two hours trying to think of what to write about. For two hours, I have been sitting here and nothing even remotely related to food has crossed my mind. Instead my mind has been wandering to far off places, thinking of things that really aren't helpful at all when trying to write a post for a food blog.
My thoughts are now getting a bit too random to even continue. I do have to share this recipe with you that I tried out last week. You may have remembered seeing it on our menu. I followed the recipe exactly, but added some chicken breast pieces sauteed in rosemary and garlic. Delicious!
Penne with Pumpkin Cream Sauce from Everyday with Rachael Ray Magazine
1 pound penne pasta
2T butter
1 onion, chopped
salt & pepper
1 15-oz. can pure pumpkin puree
1 cup heavy cream
1/2 cup grated parmesan cheese plus more for topping
1/4 cup chopped flat-leaf parsley
Cook pasta until al dente. Drain, reserving 1 cup pasta cooking water.
In the same pot, melt the butter over medium-low heat. Add the onion and season with salt and pepper; cook, stirring until softened, about 6 minutes. Stir in the pumpkin and heavy cream and bring to a boil. Return the pasta to the pot, along with the reserved pasta water, and toss. Stir in the parmesan; season with salt & pepper.
Top pasta with parsley and more parmesan to serve.
I know that so many people have such a love/hate relationship with Rachael Ray. I admit, I don't watch her shows, but I do like a lot of her recipes. Other food bloggers do too! Check out some of these food blog tried and true Rachael Ray recipes: