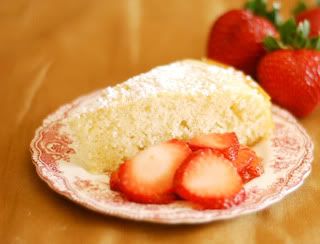 (First of all… are you already having Tastespotting withdrawl like I am? Luckily Food Gawker has stepped in to take over where Tastespotting left off! Check it out!)
As someone who writes for a food blog and other food related sites, and someone who also loves to read food blogs, I can admit that often times I will make something simply because I believe it will be good food blog fodder. This train of thought often leads me to leave out those things that might be more ordinary. (Okay – what is ordinary to me and what is ordinary to you may be completely different things, but just go with it, please.)
My husband and I attended a party on Saturday night and we were asked to bring an appetizer and dessert. It was an outdoor party, so I knew that I wanted something light and refreshing.. something that could withstand the heat if it got too hot. Chocolate was out. Frozen desserts were out. Anything with a lot of cream or dairy products was out. As I took a look through my "I will make this someday" list, I stumbled upon the Golden Buttermilk Cake with Strawberries recipe and thought I should give that a try. But, then, I hesitated. It seems like such an ordinary cake… how I would I spin it in to a blog post? What could possibly be entertaining about a plain old buttermilk cake?
Well, blogging thoughts thrown aside and the desire to mark another thing off my list taking precedence, I decided to forgo the excitement of an extraordinary dessert and go for the ordinary. After I photographed my little slice of cake, I slipped it back onto the serving plate and we headed out to the party.
I learned a very good lesson that day. Sometimes the ordinary really is extraordinary, just disguised under a simple facade. I set the cake down with the dish of cut up strawberries next to it, went with my husband to scout out a place to put our stuff, came back to get some food and noticed that my cake was almost all gone! The party had barely even begun, and people were snatching up little slices of my ordinary cake and topping it with the strawberries and were passing up things that were much fancier. I hurriedly snatched up a piece and my husband and I sat down and both mmmmm'd our way through each bite.
This cake does not need fanfare. It does not need fancy words or an elaborate description. It just needs you to give it a try and you can discover for your self how wonderful ordinary can be.
Golden Buttermilk Cake with Strawberries – Cooking Light, March 2007
1 cup cake flour (about 4 ounces)
1 teaspoon baking powder
1/2 teaspoon baking soda
1/4 teaspoon salt
1/3 cup granulated sugar
1/4 cup unsalted butter, softened
1/4 cup egg substitute (I used one egg as I was out of egg substitute)
2/3 cup low-fat buttermilk
1 teaspoon vanilla extract
Cooking spray
1 teaspoon powdered sugar
4 cups sliced strawberries
1 tablespoon granulated sugar
Preheat oven to 350°.Lightly spoon flour into a dry measuring cup; level with a knife. Combine flour, baking powder, baking soda, and salt, stirring with a whisk.
Place 1/3 cup granulated sugar and butter in a medium bowl; beat with a mixer at medium speed until well blended. Add egg substitute; beat just until combined. Add flour mixture and buttermilk alternately to sugar mixture, beginning and ending with flour mixture; beat well after each addition. Stir in vanilla (batter will be thick).
Spoon batter into an 8-inch round cake pan coated with cooking spray. Bake at 350° for 22 minutes or until a wooden pick inserted in center comes out clean. Cool in pan on a wire rack for 10 minutes. Remove from pan; cool completely on wire rack. Sift powdered sugar over top of cake.
Combine berries and 1 tablespoon granulated sugar; toss to coat. Let stand 15 minutes. Serve berry mixture with cake.
Yield: 8 servings (serving size: 1 cake slice and 1/2 cup berry mixture)
CALORIES 193 (29% from fat); FAT 6.3g (sat 3.8g,mono 1.5g,poly 0.4g); IRON 1.8mg; CHOLESTEROL 16mg; CALCIUM 75mg; CARBOHYDRATE 31.4g; SODIUM 253mg; PROTEIN 3.5g; FIBER 2g