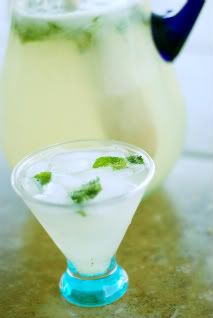 I know I often complain about being stuck in the Midwest and I long for being a living part of the pages of Coastal Living, but I will say this… we live in a great neighborhood. This weekend has been full of food, friends and fun. Friday night we went to a block party across the subdivision and enjoyed the company of neighbors as we all ate, conversed and watched our kids play. Same thing on Saturday night… an evening of great conversation, yummy food, and fun times.
Sunday, I volunteered at something called the Jiggle Jam, which was a great kids event at the Crown Center in Kansas City, MO. I worked at the beverage tent, of all things, while my husband got to drag the kids all over the event by himself in the heat of the day. Needless to say by the time my four hour shift was over, my husband was very ready to head home and was completely "Jiggle Jammed" out. We got home, changed into our swimsuits and headed up to our subdivision pool for a quick dip to cool off. While there, we ran into our good friends/neighbors and decided to invite them over for drinks on the deck that night.
I made up a big pitcher of Mojitos, a batch of guacamole, and they came over around 7pm for a relaxing evening of catching up and enjoying the gorgeous summertime air. As we were sitting there, another one of our neighbors walked by and I invited them to come on over when they were through with their walk.
We had a lovely evening, ending when the storms started to roll through around 11pm. Weekends like this is what makes me think I never want to leave my house, my neighborhood, the Midwest, etc. Friendships, camaraderie, good neighbors.. you can't find this just anywhere. I feel very blessed to have it right here in my own backyard.
Mojitos by the Pitcher (from Recipezaar)
10

limes

, fresh pulp and juice
30
leaves

fresh mint

3/4
cup

sugar

1
cup

white rum

club soda

, chilled
Place lime juice/pulp, mint and sugar into a pitcher.

Using a muddle stick mash to release mint oils, and dissolve sugar into juice.

Add rum and lots of ice topped with club soda. Adding more club soda to glasses if a lighter drink is desired.

Garnish with fresh mint and lime slices.