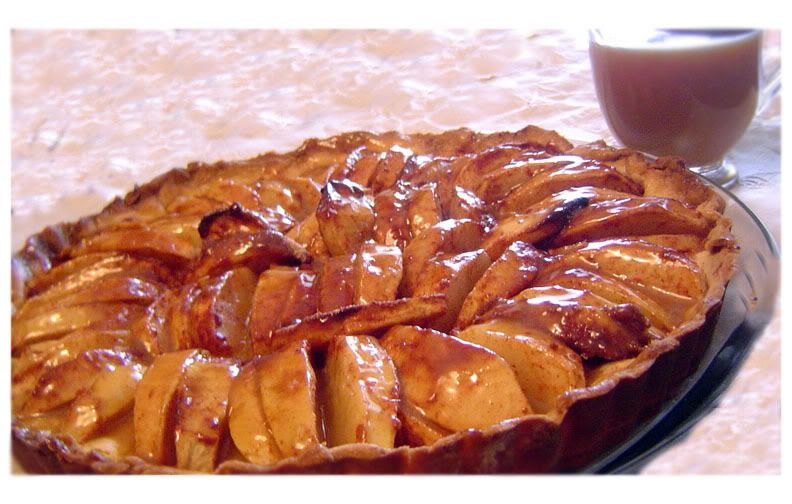 I am so tired of making apple pies. My husband loves apple pie. Every weekend he always asks "are you making me an apple pie this weekend?" He's even willing to do the daunting task of peeling and slicing the apples if I make the crust and pie. I usually give in to his apple pie cravings and make him his precious pie. Sometimes I vary and try out new recipes, but they are still apple pies.
This weekend I put my foot down. I was tired of making apple pies. I needed some variety in my life…a change from the mundane. I didn't want to disappoint him, but I also didn't want to make yet another apple pie.
I've mentioned to you before that I'm a sucker for advertising, and that little epicurious widget at the bottom of my blog is getting the best of me. When I saw the photo of the Caramel Apple Tart pop up, it called my name. My plan to deviate from the norm started churning in my head. What would happen if I made an apple tart instead of the apple pie? Would my husband revolt? Would he sulk and pout in disappointment that I did something different? Or, would he discover something incredibly delicious? Would he find out that there is more to the world than apple pie? With trepidation, I was set to find out.
As the tart was baking, my husband came downstairs and I saw the delight in his eyes at the aroma of baked apples and cinnamon in the air. When the timer went off and I pulled the tart out of the oven to cool, he came over and looked stumped. I explained to him that I made an apple tart instead of an apple pie and that I really think he was going to like it. I could tell he wasn't convinced. He looked a little disappointed that his usual weekend apple pie wasn't what I pulled out of the oven. When the tart cooled, I made a slice, poured some of the warmed caramel sauce over it and presented it to him. I left him alone with the tart wanting their first meeting to be without me hovering over him, wondering what he thought. After his first bite he exclaimed "This is sooooo good!" This comment may not mean much to you all, but it was a victory in my mind. My husband hardly ever "exclaims"… his normal comments are "I'd eat this again" or "You don't have to make this again".
The proof that he really loved the tart was the fact that this morning when I came downstairs to go to church, I noticed the tart pan empty and washed sitting in the dish drainer. Aside from the one slice I had yesterday and the slice my friend Kathy had, Nick had eaten the entire tart.
I now see in my future alternating weekends of apple pie and apple tart. Variety is a wonderful thing!